Darkiron Massage Gun Review: The Budget-Friendly Massage Gun That Novice Users Will Love
Disclaimer: Our content is unbiased, non-sponsored and fact-checked. If you buy via links on our site, we may earn a commission. As an Amazon Associate, we earn from qualifying purchases.
---
Welcome to our Darkiron massage gun review. Here's one we stumbled upon when we went shopping for a massage gun on Amazon. We have never shied from doing random massage gun shopping on Amazon because we know it's the best place to find one.
We have also found some really awesome massage guns while there. This Darkiron massage gun piqued our interest because it ranks as the number one best seller with more than a thousand reviews.
We wanted to see if there's anything special to it. Let's dive in…
---
---
Introduction
Darkiron isn't a new brand despite what the unfamiliar name may suggest – many brands have unique and unfamiliar names.
They actually released their first massage gun in 2019. They got so many customers with that first massage gun (over 4,000 reviews). Maybe they got a few things right back then.
That device was bulky, had a very short amplitude and the stall force was very low as well. However, back then such things did not raise eyebrows quite as much as they do now.
We are interested to see whether this new model – EM31 – has the specs to compete in 2021. The first thing we noticed is that it's attractively priced. But first things first…
---
Darkiron Massage Gun Review
Darkiron EM31 Specifications

Key Feature
Darkiron EM31
Stall Force
~35 lbs max.
Stroke Length
16 mm
Percussions / min
~1700-2500rpm
Battery Life
2-4 hours (2500mA)
Weight
2.1 lbs
Attachments
15
Noise
50-65 dB
Pros
Long 16mm amplitude
15 speeds to choose from
2500 mAh battery capacity
Accessories
Cons
Bulky, feels heavy
Stall force on the lower end
Increasing noise over time
Warranty
1 Year
Price
Check at Amazon
Darkiron Massage Gun (EM31) Specification
---
First Impressions
The first thing we look for, as always, when we get a new massage gun, is the packaging.
We can report that the Darkiron massage gun has a really nice looking carrying case. It's made of plastic with a hint of carbon fiber. There is also a small case that stores all the attachments – you'll need it!
We noticed that they included spare rubber gaskets that sit on the attachments – they wear out after extensive use and the idea of replacements is quite noble. It takes about 5 seconds to quickly replace them.
The charger is the regular wall charger (brick).
---
Device
The first impression is decent enough. You get the feeling you are looking at a good enough percussion massager.
It's not a mix of high quality materials that you see with the Theraguns or even the premium quality that Ekrin employs for its devices, but it's okay for an introductory massage gun. Just for perspective, we'd say it has the same build quality as the Flyby or the Medcussors (no surprise the price is similar).
We always hope for standout features with many of the massage guns we pick to review. We were hoping to see something cool with the Darkiron percussion massager. We figured it has a rather unique LCD screen – something we haven't seen with many products that we have picked from Amazon.
The display is intriguing, to put it simply:
There is the power indicator at the top (depicted by the green bars)
There is a timer smack in the middle of the screen and a battery charge icon just above it.
There us the applied pressure indicator – the dots below the timer right after the first icon
The speed indicators are at the bottom of the screen – marked by the red bars.
---
The Controls
Like most T-shaped massage guns (Hypervolt knockoffs), the switch button is at the bottom of the handle.
Once turned on, there is a small round LED right at the base that turns green – if the battery is fully charged. The LCD screen then turns on. There are 3 physical buttons below the LCD screen indicated as Start / Stop, Speed +, and Speed –.
We like that they included physical buttons rather than touch ones – everyone loves the "click" feedback.
The little green indicator turns red when the battery needs charging.
---
Attachments
This device has 15 attachments, and wow, we had no idea what to think. We know these Amazon knockoffs have a lot under their sleeve (way too many speed gears, tons of bells and whistles and sometimes way too many attachments).
But in this case we'll say 15 attachments is definitely better than the usual 5 we find with every massage gun. The problem is, unless you are really out to experiment with many of these, you are probably just going to need 5.
That said, even if you choose to use only 5, there is the classic set of the best 5 composed of the ball, flat, bullet, fork, and shovel/wedge attachments. We also noticed they added 2 Y-shaped (slightly varied) heads that are great for massaging legs, arms and shoulders. There are other variations of the main attachments such as the arrow head and the elbow head for the bullet attachment.
The quality of the attachments is okay – hard plastic for the majority of them. The only thing that we saw that we think would be a long-term problem, is the rubber on the ball attachment. We have seen this kind deteriorate in quality within months. Even though it's the most commonly used material, we actually prefer silicone because it's more durable.
We found an instructional pamphlet that's pretty basic but good enough nonetheless. It briefly tries to explain the attachments and there is also information about the different kinds of display on the LCD.
---
Size, Weight and Ergonomics
This device is definitely the right size for a full-sized massage gun. One thing, it's definitely not as bulky as the original device, which we are guessing wasn't really a big issue back then considering the number of positive feedback it received.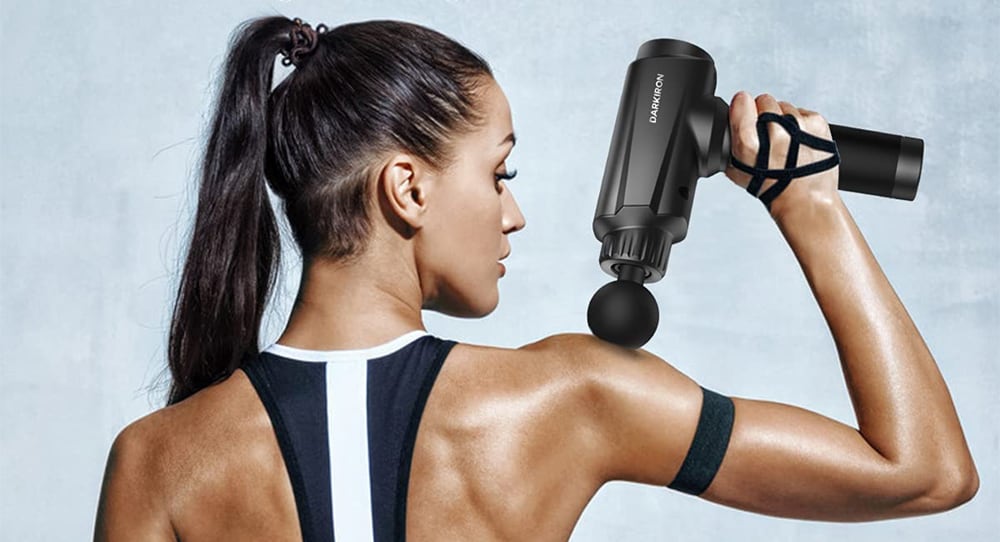 This new model looks pretty compact, and that's probably because the handle is relatively shorter. Compared to what we have seen with say, the Lifepro Dynasphere device, this one has a better handle. The Dynasphere, however, will probably do a better job if you want to reach the lower back.
That said, the handle is a 90-degree T-shaped one. As you probably are aware by now, we are not good fans of such configuration. This kind of handle tends to put tension on the wrist in case of longer massage sessions.
Especially when the bulk of the weight is on the motor (top part of the device), it can be quite a hassle to keep massaging for long. There's been a significant shift in how brands make their handles lately, with many choosing the slight angled design. Certainly Ekrin does a better job with this.
That means for this Darkiron model, ergonomics have not been worked on. However, the device isn't so heavy. It weighs 2.1 pounds, which is just about the average weight for most full-sized massage guns.
It's actually an ounce lighter than both Theragun Prime and Elite (both weigh 2.2 lbs). It's also significantly lighter than both 2 full-sized Hypervolts (weighing 2.5 and 3.0 lbs).
The handle is rubberized – which makes things a lot easier because you can get a firmer grip.
---
Performance
How does the Darkiron EM31 perform?
---
Amplitude
Also known as the stroke length, this is how far the massage gun head travels back and forth to give you the percussions. It's measured in millimeters. The further it travels, the better the performance you can get from a device. Most of the time, it actually differentiates a percussion massager from a vibrational tool.
Darkiron mentioned somewhere that their gun has a 16mm amplitude. That is professional grade stroke length that we see with top guns like Theraguns and Achedaway Pro.
But does this one really have such a long amplitude? The first look says otherwise.
We are not sure how they did their measuring for this model but it definitely isn't 16mm long. Unless we got a different device, this one has a rather short amplitude. It actually feels more vibrational than percussive. We cannot confirm if it's indeed that long.
However, for an entry-level gun, it does the job alright.
---
Stall Force
The ability of the motor to withstand a certain amount of pressure before it stalls (shuts off) is what we call the stall force. It's also an important factor in determining whether a device can actually deliver a proper percussive massage or offer vibrational therapy at best. The more pressure that can be exerted, the better the power of that particular device.
We couldn't get clear information on the Darkiron massage gun's stall force. A lot of these new Amazon selling brands have a tendency not to give this crucial information.
We were able to test it against devices with known stall force and we can say that this one has nothing more than 30lbs. of stall force. It could be slightly more, but not over 35lbs. mark. Given its purpose, we'll say it's okay.
However, although we have praised this device for being affordable, and actually a decent choice for the average person, it might not be the best option for people who want a deep massage. If you have large muscles that require quite a bit of press to get deeper, this one is not your type of device. You should probably go for Lifepro Dynasphere (and use our coupon MGA10 for 10% off) because it has a higher no-stall force.
If you are just starting out on massage guns, this device will serve you well if you need a quick massage for relaxation, to treat sore muscles, increase blood flow, or if you need it for a sleep massage routine – get better sleep.
Keep in mind that the stall force here is progressive as well. This means it varies with each speed gear with the top speed offering more force.
---
Percussions and Speed Levels
We couldn't find information on percussion range but in our test we determined that it probably revs from 1700rpm to about 2500rpm, it could be 2800rpm, but nothing more.
If our information is correct, then this is a decent range. It's nothing spectacular but it does the intended job it was meant to do.
It has 4 speeds to cycle through this range, which we believe is good enough. We are glad it's not the exaggerated 30 speeds we have seen from Chirogun and similar guns.
---
Battery
The Darkiron percussion massager has a 2500mAh capacity battery. This is good capacity given the low weight of the device.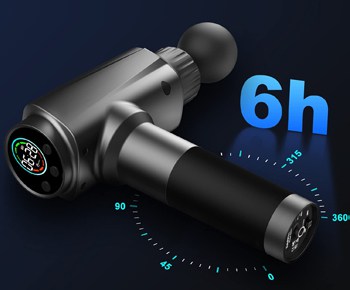 A single charge can last you for up to 6 hours according to Darkiron. In reality, the battery lasts between 3 to 4 hours. You could get an extra hour or two on battery if you don't apply a lot of pressure and if you use the device at the lowest speed. This translates to a few days before you may need to charge the battery again.
The battery is a lithium-ion non-detachable one with a brick wall charger. The charging port is at the base of the handle – very visible and close to the switch.
There is an LED indicator for the battery right around the same place. It has a 10-minute auto-shutoff feature that shuts off the device after 10 minutes to prevent it from overheating. As much as it's a cool thing to have, 10 minutes is probably too short. We'd prefer 20 minutes as we've seen with better devices. This one being cheaper probably needs a quicker cool-down.
---
Noise
It's not the quietest device out there but it's also not the loudest either. They advertise it as revving from 30dB to 50dB.
In practice, it's actually louder and can rev up to mid 60dB. It also rattles quite a bit when pressed against the body. It's not the worst kind of rattling though, nothing you can't handle.
There are vibrations that seep through to the handle that may feel uncomfortable for some people, especially when the LCD shakes.
---
Price and Where to Buy?
The device currently sells on Amazon (you can check the price there, there are also coupons available).
The warranty is reported as being 1 year. However, we are not sure about their customer service.
If you want a better warranty for a similar or even better product, try the Lifepro devices. They also have the best customer service.
---
Dark iron Best Alternative
Here is the best Darkiron alternative that we honestly recommend.
---
Lifepro Dynaflex Mini
If you want something with similar power but a safer bet, then here is the best alternative – the Dynaflex Mini.
It has a few advantages over the Darkiron massage gun as well. For instance, it's much lighter and compact, weighing in at just 1.4lbs.
It has a better build quality and offers up to 45lbs. of stall force. This is incredible power that can deliver a deep percussive massage. You can push it harder against the muscle for better results.
It has a rotating arm that makes for a better reach. It comes with 6 attachments – feels pretty few if you consider the 15 you are getting with the Darkiron percussion massager. However, these are nicely varied and if you like, there are 2 metallic ones.
Lifepro gives you a lifetime warranty for all their products and their customer service is sure. It's a proven massage gun brand.
The device goes for $79.99 but if you apply the MGA10 coupon, you can get it for $71.99 – 10% off.
---
Darkiron Massage Gun Review Conclusion
Before we conclude this Darkiron massage gun review, it's important to mention that for its price, this is a decent massage gun if you are new to massage guns.
It's a good device to experiment with given the many attachments it comes with. You can try them all out and see what works best for you.
For people looking for a true percussive device with a good amplitude and high stall force, this is not for you. There are better guns if you just look elsewhere.
We also have a bit of an issue with the fact that this is an unknown brand, and if that matters to you, then we suggest going with established brands known for their impeccable customer service.
If you have any more questions, feel free to post a comment or ask us here. Bye!
---
Darkiron Massage Gun Rating
Quality

Effectiveness

Usability

Accessories

Price Value
Summary
The Darkiron massage gun is a decent budget massage gun for novice users. It's not pro level given its weak performance specs but has the best features for new massage gun users. It won't go deep into the muscle, but it will warm up muscles, get the blood flowing and get you relaxed
Disclaimers
The views and opinions expressed on this website are those of the authors. Any content provided by our bloggers or authors are of their opinion and are not intended to malign any religion, ethnic group, club, organization, company, individual or anyone or anything.
All product names, logos, and brands are property of their respective owners. All company, product and service names used in this website are for identification purposes only. Use of these names, logos, and brands does not imply endorsement.
It is our policy to make every effort to respect the copyrights of outside parties. If you believe that your copyright has been misused, please provide us with a message stating your position and we will endeavor to correct any misuse immediately.
Some of the links in this post are affiliate links. As an Amazon Associate, we earn from qualifying purchases. This means if you click on the link and purchase the item, we may receive an affiliate commission, at no extra cost to you. This helps us keep this website alive. Learn more here.
Amazon Disclosure
massagegunadvice.com is a participant in the Amazon Services LLC Associates Program, an affiliate advertising program designed to provide a means for sites to earn advertising fees by advertising and linking to Amazon.com. As an Amazon Associate, we earn from qualifying purchases. Amazon and the Amazon logo are trademarks of Amazon.com, Inc. or its affiliates. Please refer to our Privacy & Affiliate Policy for details.