Cryotex Massage Gun Review – Budget Guns With Interesting Performance
Disclaimer: Our content is unbiased, non-sponsored and fact-checked. If you buy via links on our site, we may earn a commission. As an Amazon Associate, we earn from qualifying purchases.
---
The Cryotex massage gun – or the Cryotex massage guns, as you'll find later in this Cryotex massage gun review – is one of those hidden treasures that you don't see unless you do some digging.
We are going to look at an Amazon brand that's doing so well bringing you the benefits of percussive therapy at an astonishingly cheap price.
---
Meet Cryotex
We encountered their first gun last year when we went all out looking for the hidden gems in the market. That first product, let's just say was unimpressive. It looked rather bulky and had nothing worth looking at in terms of performance.
However, we checked them out again this year and to our delight, they overhauled their product line. Instead of their substandard maiden product, they have three new devices.
We were impressed by the performance stats on these new products even though they are unbelievably cheap. We decided to give these a try and we can now tell you what our experience was like having them.
What we can tell you off the bat is that these 3 devices are almost all identical. There are a few differences however, especially between the two cheaper ones and the slightly more expensive one.
Let's get into the meat of the review.
---
Cryotex Massage Gun Review
---
First Impressions
First thing we have to mention here is that Cryotex doesn't distinguish the 3 massage guns – at least not as far as the names go. We decided, for our review to name them as Cryotex A, B, and C.
That is, A is the least expensive ($67.99 as of press time, could change since then), then B (slightly more expensive) and C is the most expensive one at almost a hundred bucks. We hope this doesn't confuse you. We debated over using the distinguishing features, but Cryotex A and B are similar in so many ways. This would be even more confusing.
That aside, you might have noticed how it's almost a tradition for us to first check out if a device comes with a carrying case. We are not skipping it here – we love carrying our massage guns around and the cases are a necessity for us.
Good news though, all these devices come with carrying cases. We will spare you the details about the cases, but we'll just mention that the cases take on the color of the device inside. At least that seems to be the trend here.
Cryotex Massage Gun Specs Comparison
| Feature | Cryotex (A) | Cryotex (B) | Cryotex (C) |
| --- | --- | --- | --- |
| | | | |
| Stall Force | ~40 lbs. | ~40 lbs. | ~40 lbs. |
| Stroke Length | 12 mm | 12 mm | 12 mm |
| Max. Percussions | 3200 rpm | 3200 rpm | 3200 rpm |
| Speeds | 4 | 20 | 4 + 4 dynamic modes |
| Attachments | 6 | 6 | 6 |
| Noise | 40-55 dB | 40-55 dB | 40-55 dB |
| Battery | 2600 mAh | 2600 mAh | 2600 mAh |
| Time on Battery | 4-6 hours | 4-6 hours | 4-6 hours |
| Current Price | Check at Amazon | Check at Amazon | Check at Amazon |
Cryotex comparison
---
Devices
Although all these devices are similar in many ways, they definitely do not look the same. You can easily tell one from the other when you see them.
---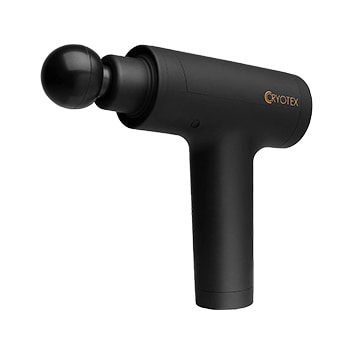 For Cryotex A, things are a little simplified, in fact we'll say perfectly simplified. This is a true percussion massager because it stays away from the fanciness in the most part.
It's pitch black and looks more like a bigger Hypervolt Go as far as the design goes. It has the one button that functions as the power button and the speed changing button as well.
Around the button are the simple LEDs to indicate speed (top of the button) and battery level (below the button).
---
Cryotex B for example, is a bit unorthodox as far as design is concerned.
It takes the traditional power tool shape but with some uniqueness to it. Instead of the LCD on the side or back of the device, they have it on top.
We're used to seeing many devices, including the China made Amazon ones with the air vent on top and anything else to the sides or the back of the device. But anyone can be unique these days we guess.
The LCD screen indicates the speeds. Just below the screen are the power and speed buttons. The speed buttons are indicated as – and +.
---
Cryotex C is the techy's device. It's riddled with extras, which are essential yes, but rather overdone in our opinion. But perhaps it's why it's the slightly pricey one.
It looks very similar to Cryotex B as far as shape and design is concerned. However, it doesn't have a screen on top but on the back of it. This screen has touch controls.
The long handle has a LCD screen at the base that indicates battery percentage. The same thing we saw on Butyce massage gun.
---
Attachments
All these devices come with 6 attachments each. The attachment sets are not similar across all devices though.
There are noticeable differences:
Cryotex A has 6 attachments – Ball, air cushion head, bullet, fork, flat, and arc. All the attachments here are made of plastic. The flat head looks a little different though with the flat surface made of aluminum.
---
Cryotex B also has 6 attachments – ball, flat, bullet, fork, spade, and air cushion head. These are all made of plastic- hard plastic for most of them.
---
Cryotex C also comes with 6 attachments – 2 ball heads, bullet, flat, air cushion, and fork attachment. These are all also made of plastic. One strange one we noticed was the flat head. It's uniquely designed and almost looks similar to the bullet head except the top is flat.
---
All in all these attachments are well varied and will make it easy to massage most parts of the body.
What we noticed is that Cryotex C has 2 ball attachments. We couldn't straightaway figure out why, but we're guessing it's a replacement for when one wears out. We also noticed that the ball attachments on this device are made of foam, which tends to wear out fast.
---
Size, Weight and Ergonomics
Two of these devices look very similar with how they're designed and perhaps only differ when it comes to size. We're talking about Cryotex A and Cryotex C.
They look rather similar to Butyce Y8 Pro Max although they're not as bulky. Cryotex C looks bigger and has a longer handle. Cryotex C has a nicely rounded handle that is more comfortable to work with compared to what Cryotex A has. We're guessing they didn't put as much thought to its handle as they did for C.
Cryotex B is the odd one out as far as the shape and size goes. In fact you'd think Cryotex were trying to address a different thing altogether here. It resembles the Hypervolt Go due to having an angled handle – only that it's bigger in size.
The upper part looks bulkier – carries the device's motor. The handle is nicely rounded. The handle is also slightly angled as opposed to its two counterparts with straight handles. Ergonomically we'd say it's the best of the bunch.
All devices, despite looking slightly different, weigh the same 2 lbs. This is standard full-sized massage gun weight. But they are all slightly lighter than the Theraguns – which weigh 2.2 lbs.
---
Performance
We noticed that the performance stats in all devices are pretty much similar as well. Let's check them out.
---
Amplitude (Stroke Length)
This is how far the massage gun head travels back and forth as the device revs, giving you the percussions. Amplitude is one of the things we take seriously here. In fact, you can never be too careful when you are looking at the Amazon massage guns. Most of them simply don't have enough amplitude.
All Cryotex massage guns have 12mm amplitudes. This is common among introductory devices. If accompanied by enough stall force, 12mm amplitude is usually good enough to do the job for runners, and occasional gym goers.
We have seen many such devices with way shorter amplitudes. We recently looked at the Naipo massage gun which rather disappointingly had only 10mm amplitude. This offers vibrational therapy at best.
12mm is also common among reputable guns like Ekrin (B37/S), Lifepro and Hypervolt. In our experience, not everyone needs the 16mm long amplitude found in Theragun and Achedaway Pro.
---
Stall Force
Stall force refers to the amount of pressure needed to stop the motor of a massage gun. This happens when the device is pressed hard against the body. The more pressure a device can handle, the more percussive it can get. However, you need a fairly long amplitude to achieve optimal results.
All the Cryotex percussion massagers have 40lbs. stall force (advertised as 45lbs. but felt realistically 40lbs.). We were taken aback by this. We are used to seeing only high-end massage guns with this kind of stall force. The cheaper ones do well if they even have 30lbs. of stall force.
40lbs. is good enough to give you a deep percussive massage. You won't go deep to the bone, but you'll definitely enjoy your massage with this.
The 12mm amplitude with this amount of stall force will work perfectly. We looked at Theragun Elite (Theragun's mid range device) and it had a similar 40lbs. stall force. The entry-level Prime doesn't even get close with its 30lbs. stall force.
We noticed that the stall force is progressive, meaning you can only get the 40lbs. at the top speed. The devices stall very easily at lower speeds.
---
Percussions
Here again, all devices have similar percussion range of 2000-3200rpm. This is good intensity to go with the 12mm amplitude. It's also the standard range for most percussion massagers. Sometimes devices will have a lower range if the amplitude is fairly long.
An example is what we find on Theragun and Achedaway devices. We also love when a device can start with much less percussions per minute, say 1200rpm. This can be very effective when you want to massage tender areas or simply want an accurate massage. However, depending on how many speed gears a device has, this is not a must.
Talking of speed gears, Cryotex A and Cryotex C both have 4 speeds which is good to go with the percussion range for both devices.
However, we have a problem with the 20 speed gears on Cryotex B. We believe there isn't much range between 2000-3200rpms for that many speed breaks.
Also, it is a nightmare to cycle through all these speeds to get to the right one. We have seen many cheap brands use this kind of language to entice customers.
Cryotex C not only has 4 normal speeds, it also has 4 new dynamic modes:
"AI" mode – auto adjust speed based on the pressure applied
"Incline" – increasing waving speed
"Decline" – as above but decreasing
"Flow" mode – random speeds, low and high
---
Noise
Despite the 12mm amplitude and high intensity percussions, these devices are really quiet. They say they're as "quiet as a mouse" and to some extent we have to agree with that statement.
They all feature brushless motor that have the decibel range at 30-50dB, but we have seen this kind of exaggeration all too often. Our tests showed us 48-60dB.
This is still very quiet for full-sized massage guns. Theraguns should take a hint here!
---
Battery
All the devices have 2600mAh capacity batteries. This is standard for most massage guns in this category.
Their batteries are LG branded which is a good sign for quality products. Most devices on Amazon have no-name batteries.
Once charged, the batteries can work for up to 6 hours. This is realistic if you're operating the device in normal circumstances. If you add more pressure and keep the intensity high, then it's likely you won't get to use the device for long. In this case we say 3-5 hours tops with these massage guns.
However, we will note that this is still better than Theragun or Hypervolt.
---
Price and Warranty
All three Cryotex massage guns were less than a hundred bucks at the time of writing this Cryotex reviews. The first two models are similarly priced, only the Cryotex C is slightly more expensive.
You can never get a better deal than this, not when you have great performance specs on these devices. Even Cryotex C is a steal if you consider other devices in its price range. 90% of the time they have very poor performance specifications.
We are only worried about the long-term performance and if the overall device quality can withstand the test of time. This perhaps may be reason enough for you to look elsewhere.
All devices have a 1-year warranty and nothing more. This is something we've come to expect with most Amazon massage guns and should come as no surprise. Most of the time the warranty information is missing in most of these devices.
If you want better warranty offers and great customer support look to Ekrin or Lifepro.
---
Who are They For?
If you are a gym goer and looking for a good massage gun to help you with most of your massage needs, then these will serve you really well. If you want an entry-level massage gun but you're unwilling to choke up more than $200 for a premium gun, then one of these will do just fine.
These massage guns will also serve runners well. We especially like Cryotex C, which we believe will be perfect with the dynamic modes.
---
Cryotex Massage Gun Review – Our Take
Now that we're done with our Cryotex massage gun review, which is the best of the 3 devices. We say, if budget is your priority, go for Cryotex B rather than Cryotex A.
Cryotex B has slightly better ergonomics (angled handle), 4 speeds – which is just about enough, you don't need 20 speeds, and it's simple – you don't need LCD touchscreens on a massage gun like this.
However, we believe there's real value in Cryotex C if you can spare about $30 more. The dynamic modes, especially the AI mode – percussions increase with added pressure – makes it the best one to have.
Cryotex Massage Gun Review - Rating
Quality

Effectiveness

Usability

Accessories

Price Value
Summary
All 3 Cryotex massage guns might have a different look and take on ergonomic, but all are fairly similar and incredibly low priced. No bells and whistles here, except of the dynamic speed settings on the most expensive "Cryotex C", but it's their decent amplitude and stall force that collectively make each and every of them a great value for money introductory massage guns.
Disclaimers
The views and opinions expressed on this website are those of the authors. Any content provided by our bloggers or authors are of their opinion and are not intended to malign any religion, ethnic group, club, organization, company, individual or anyone or anything.
All product names, logos, and brands are property of their respective owners. All company, product and service names used in this website are for identification purposes only. Use of these names, logos, and brands does not imply endorsement.
It is our policy to make every effort to respect the copyrights of outside parties. If you believe that your copyright has been misused, please provide us with a message stating your position and we will endeavor to correct any misuse immediately.
Some of the links in this post are affiliate links. As an Amazon Associate, we earn from qualifying purchases. This means if you click on the link and purchase the item, we may receive an affiliate commission, at no extra cost to you. This helps us keep this website alive. Learn more here.
Amazon Disclosure
massagegunadvice.com is a participant in the Amazon Services LLC Associates Program, an affiliate advertising program designed to provide a means for sites to earn advertising fees by advertising and linking to Amazon.com. As an Amazon Associate, we earn from qualifying purchases. Amazon and the Amazon logo are trademarks of Amazon.com, Inc. or its affiliates. Please refer to our Privacy & Affiliate Policy for details.