Chirogun Massage Gun Review: A Must-Read Before You Buy
Disclaimer: Our content is unbiased, non-sponsored and fact-checked. If you buy via links on our site, we may earn a commission. As an Amazon Associate, we earn from qualifying purchases.
---
We recently came across an interesting Hypervolt massage gun clone that's been gaining quite a following on Amazon. It's called the Chirogun Massage Gun, and it comes with an impressive line of accessories at a fraction of the cost of its competitors.
It promised multiple attachment heads, an impressive speed level range, and ease of use that made us eager to write this Chirogun Massage Gun review. In this article, we'll break all of these down to see whether it lives up to the hype.
We guarantee that once you're done with this Chirogun review, you can easily decide whether it suits your percussion needs.
In a hurry? Before you buy Chirogun, check out this Taotronics massage gun.

It performs like the Chirogun, but doesn't have reliability issues and is actually cheaper – only $49.99.
---
---
About Chirogun
There's not a lot of information about the Chirogun brand. It doesn't have an official website yet, so we can only rely on its Amazon store for information.
With impressive reviews on Amazon, it's easy to see why the Chirogun Massage Gun instantly became a hit for a lot of users. It seems that the brand is living up to its promise of helping us relax better, recover faster, and live better with the help of its products.
And let's face it – for less than $100, it is one of the most affordable percussive guns in the market.
---
Chirogun Massage Gun Review
Before we proceed with the Chirogun Massage Gun review, here is an overview of its key features for your reference.
Chirogun Specifications
Key Feature
Chirogun
Stall Force
10 – 30 lbs
Stroke Length
10 mm
Percussions
up to 3200 ppm
Battery Life
6 hours (2500 mAh)
Weight
2.2 lbs
Attachments
15
Noise
60 dB
Pros
Percussion range
Low noise
Accessories
Cons
Low amplitude
Low stall force
Feels bulky
Too many speeds
Attachments hard to pull out
Reliability issues reported
Warranty
no verified information
Buy now
Check at Amazon: Silver or Black
Chirogun Specs
---
First Impressions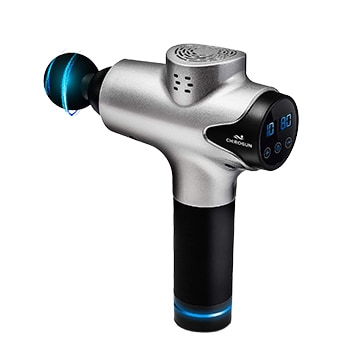 As soon as we saw it, the first thing that came to mind was its striking resemblance to the Legiral Le3.
They share the same shape and size that if they were placed next to each other, it would be hard to tell them apart.
Also, we were instantly excited about all its attachments and accessories.
The number of choices was overwhelming, so we were all the more excited to test it out.
---
What's Included
Upon opening the box, we were surprised that everything was tucked safely inside a carrying case. The purchase comes with a sleek black carrying case that's stylish and padded to keep everything damage-free.
The case has a molded interior, so everything inside won't move around when it's being transported from place to place.
Aside from the unit itself, it comes with a charger, two massage balls, washer rings, and a separate pouch containing all the attachment heads.
The Chirogun Massage Gun comes with a whooping 15 heads that help massage specific points across the body.
While this seems like an impressive number, remember that you might not use all of them at all – and that can be a waste (most likely will, unfortunately).
The heads seem to be made of premium plastic material, which is not bad for its price. It also has a foam ball head for those who prefer a soft and low-impact massage. It also seems to be of good quality.
These attachments are easily mounted onto the gun through the push-type installation mechanism. That keeps them in place even with all the vibrations.
The tricky part is taking them off – especially for the bullet-type heads. You don't have a lot of material to hold onto, and makes it hard to pull out. The push and twist mechanisms, like the one Ekrin is utilizing in their new B37s massage gun would definitely come handy!
It's also impressive how the brand thought of keeping the heads in place when the locking mechanism starts to go loose. It comes with silicone washer rings that you can put at the bottom of the head in case it needs extra traction later on.
Aside from these attachments, the Chirogun Massage Gun also comes with two massage balls. One is soft and smooth, while the other is hard and spiky. These make great alternatives when you prefer manual massages.
You also get an instruction manual when you buy the Chirogun Massage Gun. It features diagrams that inform us which head to use for particular muscle groups. And that's quite a handy guide we must admin.
---
Size, Ergonomics, and Build Quality
Let's proceed to another key portion of this Chirogun Massage Gun review: its size, ergonomics, and build quality.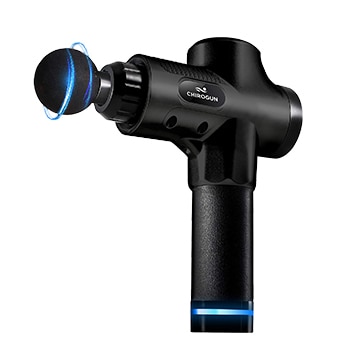 Generally, this massage gun does feels heavy and bulky.
Now, to be fair, 2 pounds of weight isn't a lot when it comes to massage guns but this device, as you'll see in a moment, doesn't feature a powerful motor.
So, with the weight of over 2 pounds, we expected better in terms of performance. We were a little disappointed in this aspect.
Moving forward, the Chirogun Massage Gun has a 90-degree angle with a wide handle.
The thing with those T-shaped guns is that they can be quite uncomfortable to hold for longer.
If you have small hands, they can also be a little hard to grip. Also, this angle makes it hard to reach certain parts of the body, especially if you're giving yourself a massage.
And as for the build quality, it seems that it's made of durable plastic material. But we're not gonna lie – it does feel a bit cheap.
To operate the Chiro Gun Massage Gun, it features a touch screen display. You can switch between speeds through this display, and it also shows the speed level and battery level for our convenience.
But, the screen does seem a bit laggy sometimes, so we're not a big fan of it.
Overall, we find that there's not a lot of impressive innovations under this category. It's big, bulky, and a little laggy, which is a little disappointing but perhaps not really surprising considering its price point.
---
Performance
If there's anything we're least excited to write about in this Chirogun Massage Gun review, it is its performance. Upon a quick peek at its specs, we knew that there's not too much to expect in terms of impact and penetration.
Amplitude / Stroke Length
Let's start with its amplitude. This refers to the distance traveled by the massage head when it's operating. And this helps us determine how deep it can penetrate or muscles or joints.
The Chirogun Massage Gun has an amplitude of only 10mm.
While 10mm seems pretty decent for a mini massage gun, we were expecting more considering Chirogun's size..
Other devices within almost the same price range offer stroke lengths of around 12mm to 16mm, so you can easily see why we're disappointed (we list some of the alternatives below).
Stall Force
This amplitude is paired with a stall force of maximum of 25, maybe up to 30 pounds on the highest gear (it's about 10 pounds on the first speed).
This number makes it good enough for relaxing massages, either as a treatment for sore muscles or to simply help you chill out.
That makes it perfect for everyday use but if you are a muscular person, then forget about true, deep tissue massage with this device. For that, you'd need a massage gun that's able to dive deeper into the muscles (higher amplitude) and one that can be pressed harder to the body without stalling the motor (more stall force).
But still, while the Chiro gun is not as strong as the Achedaway Pro, Ekrin massage guns or even Urikar Pro 2, you should also consider the difference in the price point.
On the other hand, however, there are good budget massage guns that are better yet even cheaper. We're thinking about this Taotronics here.
Overall, it's a good stall force to begin with, but not recommended for those who prefer deeper massages with higher impact.
Percussions
As for the percussion, it has a good range of around 1800 to 3200 ppm. And with 30 speed levels to choose from, you get to enjoy a wide variety of pulses to help you relax.
That said, we're not fans of having so many speeds to choose from. Believe us, navigating through levels 1 to 30 can be quite frustrating. The touchscreen is sometimes not as responsive as you'd like it to be, so occasionally you have to press the button several times before you get there.
Besides, you don't feel a big difference when switching between two successive speeds. It would have been better if we only switch between 5 to 6 speeds. We think the 30-speed feature is all a marketing gig – and it works, judging by the number of reviews it has.
We like Taotronics' 10-speed level setup more.
Similarly Priced Devices – Performance Comparison
---
Stall Force (lbs.)
Stall Force: at max 30 lbs., it won't take much pressure to stall the Chirogun's motor. We'd recommend 30-50 lbs for true deep tissue massage.
Stroke Length (mm)
Stroke Length of 10mm is common amongst entry-level devices. In that price point, it's possible to get a device with stoke length above 12mm (e.g. Urikar Pro 2)
---
Noise
At only 60 decibels, there's no doubt that the Chirogun Massage Gun is a quiet device. We tested it alongside the Theragun Pro, and it instantly drowned out the Chirogun's vibrations.
Even when we switched to higher speeds, the volume didn't seem to change much. If you want to watch TV or listen to music, you won't even notice that a massage gun is buzzing away in the background.
We would have to test it out again after a few months to see it stays quiet despite the wear and tear. From experience, other units tend to become noisier after a while, like the Legiral Le3. It would be nice to see whether it stays quiet even after some time.
Overall, we love the Chirogun Massage Gun's quiet operation.
---
Battery
Armed with a 2500 mAh battery, the Chirogun Massage Gun can last for up to 6 hours of continuous running.
It has a convenient indicator on the screen display, so you know when it's time to recharge.
It is advertised to charge within 2 hours, which is not bad considering its battery life.
Also, it doesn't work when it's currently plugged in, but that is not a surprise (most guns have that issue).
You may have to think twice about using it while it's charging.
The Chirogun Massage Gun comes with a dedicated wall charger, which is compatible with a 24-volt power source.
However, it is not chargeable via USB, and that limits our charging options.
Overall, the Chirogun Percussion Massager has a pretty decent battery performance. But, bear in mind that the battery life depends on the speed level you use. The higher the speed, and the more you press it to the body, the faster it will drain.
---
Other Review Notes
Here are some of our other Chirogun massage gun review notes, for additional reference.
Turning it on feels strange and awkward. After pressing the power button, you have to press the "+" button until you reach your desired speed level. It takes some getting used to.
Speaking of turning it on, you always have to navigate your way to your favorite speed since it doesn't remember your last setting. This can be quite a hassle if you prefer the higher speed levels.
It tends to vibrate a lot when you switch to higher speeds. This can be felt in your hand, and that can be uncomfortable over time.
We had people contacting us saying that they have experienced reliability issues with Chirogun devices. Most of them reported battery charging problems.
---
Who is It Best For?
Considering its average performance, the Chirogun Percussion Massager would be a good choice for people who are looking for an affordable personal massage gun.
It does have a wide percussion range, but the limited amplitude and stall force results in a weaker impact – not exactly satisfying for athletes and professionals.
---
Price and Warranty
There's no denying that the biggest selling point of the Chirogun Massage Gun is its affordable price. At well under $100 on Amazon (check the current price), it's one of the most affordable massage guns on the market.
For this price, you already get a decent unit with 15 attachments, two massage balls, and a carrying case. Not bad at all, although we would still prefer Taotronics TT-PCA003 or Urikar Pro 2 – the performance is very similar but there have been no reliability issues reported for these.
As for the Chirogun's warranty, there's no clear information as to whether the brand offers any at all. And that's quite disappointing. Our two alternatives offer you a one year warranty.
---
Chirogun Best Alternatives
---
Urikar Pro 2 – Cheaper But Better
Perhaps the most interesting alternative is the Urikar Pro 2.
It's a clear upgrade from the Chirogun Massage Gun and is well worth it. Especially that it can be cheaper when used with the PRO2 or URIKAR200 promo codes.
Here are some of its key features.
It has a verified 12mm amplitude – bigger and better than the Chiogun's 10mm. Urikar advertises 15mm, but it showed 12mm on our digital caliper.
It also offers more stall force – about 35 pounds. That gives us a

much

better massage impact that will surely improve blood circulation and treat sore muscles.
It has a special heated attachment – a ceramic head for a heated massage option. Yes, that is right, a heated massage does wonders to your muscles, as explained in our heated massage gun guide.
Despite the better performance and heated massage capabilities , the Pro 2 is as light as the Chirogun (only about 2.2 lbs).
It doesn't come with 15 attachments, but the 8 heads that come with it are really enough for a full-body massage.
It has an adjustable handle that rotates 180-degrees to give you two different options to hold the device.
It features 3 distinct dynamic modes where speed is automatically adjusted. In addition, it offers six speed levels to provide you with varying percussion for different purposes.
The Urikar Pro 2 generally retails for $149.99, but you can buy it for $82.5 when you use the coupon PRO2 before you purchase – a massive 45% discount. Get the Pro 2 right here.
Not only this is a few bucks less than the Chirogun, but the improved features and upgraded performance is well worth every penny. You can read our Urikar Pro 2 review here.
---
Taotronics – Much Cheaper, Still Decent
If the Urikar is still a little above your budget, a more affordable alternative is the Taotronics TT-PCA003. At only $45 or so, this massage gun offers pretty much the same specs and performance as the Chirogun.
It features a similar maximum stall force of around 25-30 pounds and an amplitude of 10mm, so you can expect the same performance.
It has a wider percussion range than Chirogun, at 1400 – 3200 percussions per minute.
It has 10 speeds, a setup that we prefer more than the Chirogun's 30 speeds – an overkill.
2600 mAh battery is a tad larger than the one used in Chirogun. Expect 2-3 hours on a single charge.
While the Taotronics can't match Urikar when it comes to all the features the former comes with, the price of the latter is simply unbeatable. The Taotronics used to cost $145.99 but the price has since dropped to a rather incredible $49.99.
The Taotronics used to cost $145.99 but the price has since dropped to a rather incredible $49.99. Check it out here.
MORE INFO: Find out more in our Taotronics Massage Gun Review.
---
Chirogun Massage Gun Review: Bottom Line
Without a doubt, the Chirogun Massage Gun's affordability is one of its selling points. While it doesn't come with a warranty, it has strong points thanks to its 30 speed levels and multiple attachments.
To conclude this Chirogun Massage Gun Review, this unit makes a good entry-level massage gun for home or personal use. It is a decent all-rounder, but be aware that there are some good alternatives out there, and some of them match or even outperform the Chirogun.
Chirogun Massage Gun Rating
Quality

Effectiveness

Usability

Accessories

Price Value
Summary
If you're looking for an affordable entry-level massage gun, the Chirogun Massage Gun would be a reasonable choice. While the specs are a bit disappointing, it gets the job done anyway – pretty decent for its price. Overall, it would be great for personal use, but there are better options that are even cheaper. 
Disclaimers
The views and opinions expressed on this website are those of the authors. Any content provided by our bloggers or authors are of their opinion and are not intended to malign any religion, ethnic group, club, organization, company, individual or anyone or anything.
All product names, logos, and brands are property of their respective owners. All company, product and service names used in this website are for identification purposes only. Use of these names, logos, and brands does not imply endorsement.
It is our policy to make every effort to respect the copyrights of outside parties. If you believe that your copyright has been misused, please provide us with a message stating your position and we will endeavor to correct any misuse immediately.
Some of the links in this post are affiliate links. As an Amazon Associate, we earn from qualifying purchases. This means if you click on the link and purchase the item, we may receive an affiliate commission, at no extra cost to you. This helps us keep this website alive. Learn more here.
Amazon Disclosure
massagegunadvice.com is a participant in the Amazon Services LLC Associates Program, an affiliate advertising program designed to provide a means for sites to earn advertising fees by advertising and linking to Amazon.com. As an Amazon Associate, we earn from qualifying purchases. Amazon and the Amazon logo are trademarks of Amazon.com, Inc. or its affiliates. Please refer to our Privacy & Affiliate Policy for details.