Butyce Massage Gun Review – Y8 Pro Max – More Power At A Cheap Cost
Disclaimer: Our content is unbiased, non-sponsored and fact-checked. If you buy via links on our site, we may earn a commission. As an Amazon Associate, we earn from qualifying purchases.
---
In this Butyce massage gun review, we explore a less known but decent percussion massager. Decent because it has some pretty impressive performance stats that we like.
Meet The Butyce Massage Gun
If you have been following us you know how zealous we are about finding the best massage guns on the market and telling you about it. We know the Amazon marketplace has a plethora of these devices and it can be tough to find the best.
But we are experts and we know how to dig for some overlooked gems.
But is Butyce Y8 Pro Max a gem? Amazon buyers think so – 95% of users have given it a 5-star review.
Butyce is an Amazon seller as far as we know. They might have just surfaced recently – you know how there are tons of these today. From a bit of digging we found out that they also have one other massage gun that they're selling – M3 Pro.
We inspected their Amazon store further and saw that they also sell other wellness products like back braces and electric massagers.
We are interested in percussion massagers and that's why we are doing this review. So let's get into it, shall we?
---
Butyce Massage Gun Review – Y8 Pro Max
Butyce Y8 Pro Max Specs
Key Feature
Butyce Y8 Pro Max Specs.
Max. Stall Force
50 lbs* / ~25-30** lbs.
Stroke Length
14 mm* / 10mm**
Percussions / min
1300-3200* / 1500-3000**
Battery Life
10-15 hours
Weight
2.1 lbs (just device)
Attachments
8
Noise
25-55 dB
Pros
Pressure-based adaptive speeds
Low noise
battery capacity
Accessories
Cons
Overstated amplitude, stall force
So-so ergonomics
No warranty information
Tiny font on the LCD
Price & Coupon:
Check at Amazon
Butyce Y8 Pro Max Specification
*as advertised / **our test results
---
First Impressions and Build Quality
The Y8 Pro Max comes with a carrying case, which is always, for us, a nice gesture from any massage gun brand.
A lot of so-called top massage guns (Hypervolt for example) don't sell their devices with carrying cases. It's a non-drip, well-textured case.
Inside we found the device, the wall charger, 8 attachments, and an instructions manual.
---
The Device
The Y8 Pro Max may seem like another Hypervolt knockoff – similar design and shape. It however, may not be an exact Hypervolt clone because not everything is Hypervolt-ish.
For instance, it doesn't have the Hypervolt LED ring at the base of the handle. Instead the screen at the base displays the battery percentage left. There's a display screen at the back of the device that is unique – unlike what you see on most devices. We couldn't get a hang of it at first but with time got used to it and everything was smooth.
It's made of hard PC alloy that we're certain doesn't easily break or wear out. It looks sturdy and durable. We've reviewed many massage guns that are plastic, we liked some, but some not so much.
This here is a different proposition. Talking of things that are different, the power button is right at the base of the device. Instead of a press-and-hold button, it's a switch button. Push either side of the ON/OFF markers to turn it on and off.
It has an LED touch screen that you can use to cycle through the 7 speeds. The screen also displays the speed gears, pressure sensor (more on this later), and power display – you can see why we got confused trying to figure it out.
That said, it comes in two color variations – black and silver, we got the black model. There is a detailed manual that instructs you on how to use the device for best effect.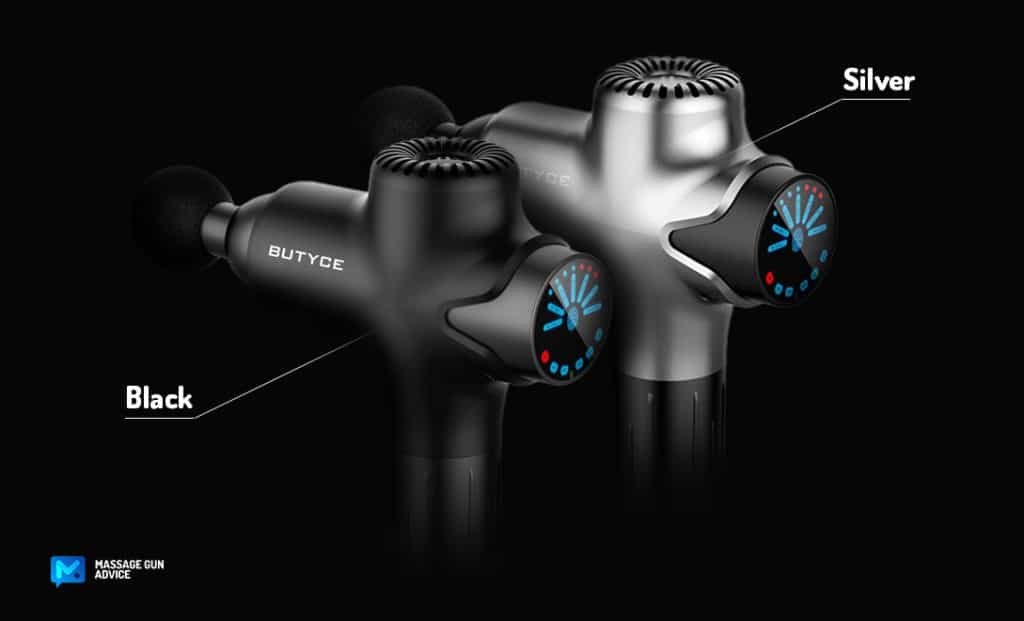 ---
Attachments
The Y8 Pro Max has a lot to offer here. We know most of the premium devices we have looked at don't really exaggerate the amount of attachments they offer. Some Theraguns are great example.
But Butyce seems to have overdone here. Nonetheless, the Y8 Pro Max has 8 attachments: flat, ball, fork, bullet, air cushion, spade, arc, tower.
Here's a brief information on some of them:
Ball
It's the all-purpose attachment because it can work on both large and small muscle groups.
Flat
It's the perfect attachment if you want to work on large muscle groups. You can use it on your quads, hamstrings and pecs.
Bullet
This is the go-to attachment when you need to work on target areas around your hands and feet. It's also good to work on ligaments.
Fork
The fork or spinal attachment works on the area around the spine and the neck. The two prongs slide across either side of the spine. You can also use it to massage your Achilles.
The other attachments are really just variations of these. We know most brands that sell on Amazon like to overdo the number of attachments. For example, the Chirogun, which we recently reviewed, breaks the record with 15 attachments.
You may not agree, but we think it's not really a cool thing when a device has too many attachments – but we like how Butyce varied the attachments on the Y8 Pro Max.
Unlike what we saw with most Theraguns where most of the attachments felt the same, this one gives you the chance to target different body parts.
---
Size, Weight and Ergonomics
The Y8 Pro Max measures 9.3" x 6.5" x 2.95". It feels compact, if the bulky Amazon devices are anything to go by. It weighs 2.1lbs. which is just about the standard weight for most guns in its category. Just for comparison's sake, Theragun's Elite weighs 2.2lbs.
Like we mentioned earlier, Butyce massager borrows the shape and design from Hyperice's bigger guns. It's still a power tool– we've always had a dislike for this kind of design, puts a lot of pressure on your wrist and a longer massage session may be a pain.
We have always appreciated brands that do their best to improve the ergonomics of their devices. We love Ekrin for being innovative with their ergonomic 15-degree angled handle for their devices. The best ergonomically designed products, of course, are the full-sized Theraguns and Urikar AT1 – which borrows its design from Theragun.
Many other brands even on Amazon are trying to make their devices with better ergonomics.
---
Performance
This is why we chose to have a look at this massage gun. It has some pretty interesting performance stats. Let's have a look!
---
Amplitude (Stroke Length)
Amplitude or sometimes known as the stroke length, is the length of the head travel – how far the head travels back and forth to give you the percussions. A device's amplitude determines how deep a massage you can get.
The Butyce Massage Gun promises 14mm amplitude – they refer to it in their Amazon listing as "beat depth", a cool name for once. We believe 14mm amplitude is a very good stroke length for a full sized massage gun.
The problem is that the amplitude is overstated. Unfortunately, it is not 14mm but 10mm, as per our digital caliper measurements. This is a vibration massage territory.
There are other factors involved of course – stall force and percussions – but the longer the stroke length in a device the more you feel the hits. It's definitely not a Theragun or Achedaway Pro here.
But as we like to always remind you, even short amplitude can be effective when it's paired with a powerful enough stall force. Does the Y8 Pro Max have a good enough stall force?
---
Stall Force
Stall force is the amount of pressure that it takes to stall the motor. This happens when you press the device against your body. Press it too hard and most devices will stall or simply stop revving.
This is an important feature in any device. Together with the amplitude, they determine if the device can deliver a deep tissue massage.
The Y8 Pro Max has what they call "23kg beat strength" which translates to 50lbs. stall force. This, on paper, is better than what over 90% of devices on Amazon can offer.
But again, that figure seems largely overstated. The stall force of this device is okay, but definitely nowhere near 50lbs.
It is perhaps in the upper 20s lbs., we couldn't tell precisely. However, when we compared Butyce to Urikar Pro 2 and Taotronics TT-PCA003, we noticed that it is somewhere in between these two.
Overall, this device can give a good massage, but it only falls short against the powerhouses like Theragun Pro, Achedaway Pro, and Ekrin B37/B37s.
One thing to note here, however, is that the stall force is progressive – on lower speeds the device will stall easily. Given it has 7 speeds, the lower speeds will not offer you much power, but it gets better when you take the intensity up a notch.
---
Here is how the Butyce Y8 Pro Max looks like against the most popular competitors.
---
Stall Force (lbs.)
Our take: Butyce massage gun, given how much it costs, is quite okay but we liked cheaper Taotronics better.
Stroke Length (mm)
Our take: The real amplitude on Butyce Y8 Pro Max is 10mm, which isn't enough for a punchy, Theragun-like massage. However, it is enough for starters and an everyday treatment routine.
---
Percussions
Percussions are the hits per minute against your body. Here, the more the better. More percussions means better intensity, which translates to an effective percussive massage.
However, this varies depending on a device's amplitude. If a device has a long enough amplitude (like Theragun's 16mm), then the percussions can be fewer.
The Y8 Pro Max promises a 1300-3200rpm percussion range. We've measured less, 1500 to 3000rpm, but still that kind of percussion range is okay – it is a standard one.
The fact that the intensity starts way low means that you can get an accurate massage – start way low before you can crank it up to the top speed.
It's a nice device for a warm up massage or if you want to have a delicate massage.
---
Speed Levels
It has 7 speeds which we think is acceptable – any more would be unnecessary.
Many cheap Amazon brands try to win customers by promising 20 or 30 speeds. In our opinion this is absurd, and practically speaking, it would take ages to even get to the right speed.
We have always advocated for devices that have 5 or 6 speeds. For Y8 Pro Max, 7 speeds is okay given it starts way low – at 1300rpm.
It has a pressure sensor that responds to the pressure applied on the gun and consequently increases the intensity of the massage.
We have seen a similar feature on the Everyfun M3 Pro whose sensor works on the 5th gear by automatically increasing the intensity when more pressure is applied.
---
Noise
The Y8 Pro Max is a surprisingly quiet device. It's listed as revving between 25dB to 55dB but it feels more 35dB to 60dB which is still really hushed down.
We say this because most devices with a fairly long amplitude tend to be noisy.
This one here defies that statistic with its perfectly quiet motor. We believe you won't need to turn up the TV volume when you are using it.
---
Battery
The battery on this gun is massively juiced. 4800mAh capacity battery is no child's play by any means.
If you are wondering how long that will last, it's 15-24 hours! Talk about a percussive massage day!
We believe, however, that is a bit exaggerated. But, you can still get 12-15 hours of battery life with this thing.
That's way more than any Theragun can offer – Theragun Pro will run for 2-3 hours.
That said, we did notice that the battery drains very fast when more pressure is applied and the speed cranked up a notch higher.
Another question is the long term performance. We have seen batteries in other cheap guns deteriorating much faster than it is in the case of known (more expensive) brands.
To be honest, we don't think this device can perform half as well after 6-8 months of daily use, but time will tell.
---
Warranty
We couldn't find any warranty information on this device. We have seen this kind of thing with most devices that are manufactured in China and sold on Amazon.
If you want a device that gives you a lifetime warranty then check out Ekrin and Lifepro which even after buying, still give you unmatched customer support.
---
Who is It For?
Butyce massage gun is a decent device for those looking for an affordable, average percussion massager but do not wish to spend more on a premium device.
We can recommend it for runners, gym goers, and crossfitters. It may not be the perfect massage gun for most demanding users like bodybuilders. Also, it is not a viable Theragun alternative – the amplitude isn't on par.
Unless you want something to quickly warm up your muscles with, we recommend you check out more powerful devices like Taotronics and Urikar below. They are also great, and cost more or less the same.
---
What are best alternatives?
There are two worthy, more affordable alternatives we can recommend:
Urikar Pro 2 is one of them. Not only it has a higher amplitude (12mm confirmed), but it brings one extra feature: the heated massage capability. The Pro 2 comes with a special ceramic attachment that heats up to deliver a warm, soothing, relaxing massage.
It also comes with an adjustable handle that rotates 180 degrees and is lockable in two opposite positions. This is handy when doing a back massage on yourself.
The Urikar Pro 2 typically costs $149, but with the PRO2 coupon, it can be yours for only $82.5 – a massive 45% off. This makes it cheaper than the Butyce gun. Get it right here.
You can also read our full Urikar Pro 2 review, where we also share tons of photos.
Super-affordable Taotronics is yet another alternative. Taotronics sold tons of them, so this might be a safer bet than relatively unknown Butyce. Their TT-PCA003 model is a basic one. It comes without any bells and whistles, but it gets the job done well.
It has 10mm amplitude – Taotronics says it is 12mm, but we proved them wrong. It has about 25-30lbs. of stall force, which is okay for an entry-level massager. The percussion range is excellent at 1400 up to 3200 rpm. It has 10 speeds to cycle through that range.
The battery is very decent, 2600mAh, capable of running for about 3 to 5 hours depending on how much pressure you apply and what speed it will rev at.
Most importantly, however, it is one of the most affordable devices out there. It now retails for only $49.99. You won't get a better deal than this. Buy it in Taotronics' store here.
---
Butyce Massage Gun Review Conclusion
We draw the curtains on our Butyce massage gun review. We believe this is an okay entry-level device that will help you to warm-up, treat sore muscles, help you relax, and also increase blood circulation.
It overstated some important performance numbers, but we find this typical for Chinease brands that sell on Amazon. That said, it's a cheaper alternative if you can't afford a premium gun, but demanding users will have to look elsewhere.
You can get it on Amazon right here or think about buying one of cheaper alternatives that we presented above. We think the Taotronics 003 or Urikar Pro 2 are better devices overall, but hey, you are the one who decides.
Take care!
Butyce Y8 Pro Max Review - Rating
Quality

Effectiveness

Usability

Accessories

Price Value
Summary
A Hypervolt-inspired device but with some unique tweaks and interesting performance features. Great amplitude, powerful stall force, and impressive pressure sensor, cheap alternative to similar category premium devices. Great for runners, gym goers and crossfitters.
Disclaimers
The views and opinions expressed on this website are those of the authors. Any content provided by our bloggers or authors are of their opinion and are not intended to malign any religion, ethnic group, club, organization, company, individual or anyone or anything.
All product names, logos, and brands are property of their respective owners. All company, product and service names used in this website are for identification purposes only. Use of these names, logos, and brands does not imply endorsement.
It is our policy to make every effort to respect the copyrights of outside parties. If you believe that your copyright has been misused, please provide us with a message stating your position and we will endeavor to correct any misuse immediately.
Some of the links in this post are affiliate links. As an Amazon Associate, we earn from qualifying purchases. This means if you click on the link and purchase the item, we may receive an affiliate commission, at no extra cost to you. This helps us keep this website alive. Learn more here.
Amazon Disclosure
massagegunadvice.com is a participant in the Amazon Services LLC Associates Program, an affiliate advertising program designed to provide a means for sites to earn advertising fees by advertising and linking to Amazon.com. As an Amazon Associate, we earn from qualifying purchases. Amazon and the Amazon logo are trademarks of Amazon.com, Inc. or its affiliates. Please refer to our Privacy & Affiliate Policy for details.