Blackleaf Massage Gun Review: Are Heated Relax & Relax Pro Guns Any Good?
Disclaimer: Our content is unbiased, non-sponsored and fact-checked. If you buy via links on our site, we may earn a commission. As an Amazon Associate, we earn from qualifying purchases.
---
Hello, guys and gals, and welcome to another massage gun review. Today, we shall be doing a Blackleaf massage gun review.
As you may know if you've been reading our articles for a while, we are crazy about massage guns. The very name of our site gives us away.
Best percussion massage guns can straighten out your muscles, loosen knots, and force the dissipation of lactic acid that's been built up in your muscles. More importantly, they enable you to give yourself some massage therapy, which feels good, if nothing else.
Today, however, we'll be discussing Blackleaf heated massage guns. Yes, heated guns. The heated percussion therapy is the latest twist on those popular devices, so let's briefly discuss what it is, and what it does to your muscles, and then jump straight into Blackleaf massage gun reviews.
Heated Percussion Massagers – A New Emerging Trend
In a nutshell, heated massage guns give deeper massages as the heat penetrates the muscles, relaxes them, and improves blood and lymph flow. It has many of the same benefits as a heated stone massage would have.
A particularly enjoyable discovery for us was the heated massage gun. It's got the added element of heat, which provides for extra release and relaxation. It makes massage guns that much more fun!
Heated massage guns are the latest trends, and our first encounter was with the Lifepro Fusion X, and then also the upgraded FX (now unavailable anymore). It was the first heated massage gun on the market from a great and innovative massage gun brand. We thoroughly enjoyed it!
Enter Blackleaf – A New Brand
One of the things we first noticed about Blackleaf was that they were brand new in most ways. They have no earlier track record and, when we first discovered them, had no website at all.
Recently, however, they put up a website at blackleafus.com. That said, they've still got a lot of work to do on it. Considering that they don't have an "About" page, we also know absolutely nothing about the company. The main point of contact with this company is their Amazon store. And they had some pretty interesting products. The specs seemed to be off the charts!
So we decided to go over to their Amazon store and check out what they had to offer. Their Relax Pro massager, in particular, caught our attention due to its heating capabilities. However, at first glance, we felt an onset of deja vu. Hadn't we seen that massage gun somewhere before?
And then it hit us!
A LifePro Knock Off?
Relax Pro and Relax Pro S, the two heated massage guns from Blackleaf, were almost atom-for-atom knockoffs of the Lifepro Fusion X and Lifepro Fusion FX, respectively.
There were only minor differences under the hood. We also noticed more than a few typos and grammatical errors in their descriptions, which were reminiscent of a certain country in the east. That convinced us that this was a deliberate knock-off meant to eat into Lifepro's market share unscrupulously.
We were a little mad, on behalf of Lifepro, that someone would so shamelessly create a knockoff of their product, but we decided to give them the benefit of the doubt. And that's why we did this Blackleaf heated massage gun review. We'll let you read it and decide at the end whether you'd like a Blackleaf or a Lifepro.
And now, without further ado, let's get started!
---
Blackleaf Heated Massage Gun Review
Before we go too far, let us talk about the two Blackleaf models. As mentioned before, there are the Relax Pro and Relax Pro S.
While this review is about the more affordable Relax Pro, it covers features available in both, as there are only a few differences between the two – we'll get there soon.
---
Blackleaf Relax Pro Review
Blackleaf Relax Pro Specifications

Key Feature
Blackleaf Relax Pro
Stall Force
45 lbs
Stroke Length
10 mm
Percussions
1600-3200 ppm
Battery Life
3-5 hours (2600 mAh)
Weight
2.16 lbs
Attachments
5
Noise
35-50 dB
Pros
Heating mode
Low Noise
Attachments
Low Price
Cons
Doesn't feel like 45 lbs
Low amplitude
Not unique (Lifepro Clone?)
Warranty
1 year
Current Price
Check on Amazon
Blackleaf Relax Pro Specs
---
First Impressions
The Relax Pro comes in a zippered and padded organizer box. This is good, both for organization and portability. It means you can take it with you wherever you go.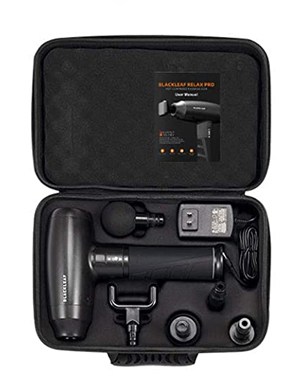 When we opened the box, we found the massage gun, power adaptor, 5 heads, and a little instruction booklet with pictures of the head attachments and what they are for:
Round head – The round head is suitable for deep massage therapy and works on all muscle groups.
Bullet head – The bullet head is great for deep tissue massage, as well as working meridians, joints, palms, and acupoints (points targeted during acupuncture).
Mushroom head – The mushroom head is best used on the software parts of the body, such as the inner thigh.
Spinal head – The spinal head is best used for the neck, spine, shoulders, and Achilles' tendon.
Flat head – The flat head looks a lot like the mushroom head, except it has a flat top instead of a slightly rounded one. This head is best used to shape muscles and for relaxation.
The gun itself has that familiar old jackhammer shape. We don't particularly like it, because it can be difficult to handle for people with small hands. Also, with no adjustability, it can be difficult to reach remote areas of the body. That's a problem we always stumble into when dealing with non-adjustable jackhammer-shaped massage guns.
In the ergonomics department, you can tell that the designers are doing their best, however. The handle has a rubber grip to enable holding it for prolonged periods.
On the back of the massage gun's 'barrel', you will find the controls. Here you can switch it on or off with the power button. Below that is the heating button, which you switch on when you want to heat the head attachment.
There are also 5 LED lights to tell you which speed level you're on. There is a switch for the speed levels on the left side of the gun, just under the barrel and above the handle. You press up to increase the speed level and down to decrease it.
The heat range is between 107 and 118 degrees Fahrenheit. It works well and feels pleasantly warm, but not very hot. Also, only one tip is heated, and that is the flat ceramic one.
The good news is that the gun only gets heated if you want, in which case you press the heat button.
Another thing we noticed is that the gun is a little heavy at 2.16 lbs. Combined with the jackhammer shape, it can be a little uncomfortable for people with small hands to hold. That said, we understand that the addition of the heating component will naturally add some weight.
---
Performance
The gun has an advertised stall force of 45 lbs. What does it mean? In a nutshell, it means that when pressed to the body, the motor should withhold a pressure of 45 pounds before stalling.
The more stall force, the deeper the muscle penetration can get.
During practical use, however, it felt more like 30 lbs., which was eerily similar to what Lifepro has to offer.
30 lbs. is still okay for most people, but if you do a lot of intense work or are a bodybuilder or athlete, you might want to get something with a bigger stall force for a more intense deep tissue massage.
The amplitude (the stoke length, meaning the distance the head is traveling back and forth) is just 10 mm. To be honest, that felt a little small, and way below what brands like Ekrin, Theragun, and Hypervolt offer.
The only reprieve here is that it has a higher RPM range (1600-3200) to compensate for that (Theragun, for example, has an RPM range between 1750 and 2400).
But if you think about it, the higher rpm range is a result of a lower amplitude. The device is simply able to vibrate faster due to lower stroke length. Anyway, the percussion range is fine, and it does the job.
---
Battery
The Relax Pro runs on a 2600 mAh battery. This is a higher capacity than your typical massage gun. However, due to the heating component, there will be increased power consumption.
The battery needs up to 3 hours to get a full charge, and it is recommended that you full charge it for 3 hours before first use. After that, it should give you between 3 and 5 hours of work, depending on the speed.
That's respectable.
However, there is a caveat: the massage gun will auto shut-off after 15 minutes of continuous use to protect the motor from overheating. Furthermore, you are advised not to use it for more than an hour at a time.
The good news is that the battery is removable, which really enhances portability.
---
Noise
It's actually a reasonably quiet massage gun, with a noise rating of 30-55 dB.
---
Relax Pro vs. Relax Pro S
For starters, the Relax Pro S looks a bit different. It has less rounded shape than the Relax Pro and looks perhaps a bit more traditional. It also has slightly improved ergonomics, due to handle equipped with some additional rubber stripes.
One bigger update as compared with the more affordable Relax Pro, is that the Pro S has 3 pre-programmed variable massage modes, known as auto modes:
First, there is the progressive mode, which starts low and ends high, then resets. One of the things we noticed was that it progressed too fast and felt a bit unnatural.
There is also the variable massage mode, which switches back and forth between high and low speeds.
There is also the standard, continuous mode, with 5 speed levels to choose from. This is exactly the same as what is offered by the Relax Pro.
Another difference is that the Relax Pro S has 6 attachments instead of the 5 that come with the Relax Pro.
Other than that, it's pretty much the same hardware as the Relax Pro without "S".
Is It a Rip-Off of Lifepro?
To be honest, we're stunned to see how almost exactly the same Relax Pro and Pro S are as the Fusion X and Fusion FX, respectively.
Lifepro is a reputable company, with over 15 distinct models in their collection. No other company has so many distinct models. We've reviewed them multiple times, users and therapists love their products, which are high quality and come with a lifetime guarantee.
A quick investigation will also show you that Lifepro was first on the market. The Fusion X and FX were released in 2019, with user reviews dating back to November of that year. The Relax Pro was launched in Q2/Q3 of 2020, with the earliest SKUs dating back to April of that year.
2022 UPDATE: It looks like the Lifepro Sonic and Sonic X are no longer available for sale. In this case, we think it makes sense choose Blackleaf.
---
Any Differences Between the Blackleaf and Lifepro?
---
Blackleaf Relax Pro vs. Lifepro Fusion X

Major difference here is also the heat range, otherwise everything else is identical. The two are nearly identical devices in each case, except the temperature difference.
---
Blackleaf Relax Pro S vs. Lifepro Fusion FX
They have the same specs in terms of weight, RPM, amplitude, battery, body, handle, shape, controls, and even grip design.
On paper, the Relax Pro S comes with 45 lbs. of stall force. Practically, it feels like 30 lbs., which is the same as the Fusion FX. We'd say both have the same stall force of 30 lbs.
Lifepro has a higher heat range at 113-131 degrees Fahrenheit.
On the other hand, the Relax Pro S has one more heat attachment than the Fusion FX (6 vs. 5).
---
What About Price and Warranty?
The Lifepro is more expensive for sure.
The Fusion FX can be yours for $206.99, if you use a

MGA10

coupon that gives you 10% discount off the regular price. The price for the Blackleaf Relax Pro S is lower but has been fluctuating. It's best to check the most current one here.
The Fusion X costs $152.99 with a

MGA10

coupon discount. The Relax Pro is less expensive.
That said, Lifepro offers a lifetime warranty while Blackleaf offers a 1-year warranty.
---
Blackleaf Massage Gun Review – Bottom Line
The Blackleaf Relax Pro and Pro S are affordable, entry level, heated guns. They're suitable for a broad audience and are good for home use, offering enough power and features to provide relief for most people. However, they can be too weak for athletes, body builders, or people with a lot of muscle mass.
These massage guns offer great value for money, but it looks to use they are a rip-off of Lifepro massage guns. It's up to you, dear reader of this Blackleaf massage gun review, to choose between the two.
2022 UPDATE: It looks like the Lifepro Sonic and Sonic X are no longer available for sale. In this case, we think it makes sense choose Blackleaf.
Blackleaf Relax Pro Ratin
Quality

Effectiveness

Usability

Accessories

Price Value
Summary
Both heated massage guns from Blackleaf, the Relax Pro and the Pro S are two decent, affordable massagers that bring the heating element into play. While the devices aren't really powerful ones, the heating feature in both of them works great and helps to soothe the sore muscles as intended. The biggest drawback? They look almost identical to their counterparts from the renowned Lifepro.
Disclaimers
The views and opinions expressed on this website are those of the authors. Any content provided by our bloggers or authors are of their opinion and are not intended to malign any religion, ethnic group, club, organization, company, individual or anyone or anything.
All product names, logos, and brands are property of their respective owners. All company, product and service names used in this website are for identification purposes only. Use of these names, logos, and brands does not imply endorsement.
It is our policy to make every effort to respect the copyrights of outside parties. If you believe that your copyright has been misused, please provide us with a message stating your position and we will endeavor to correct any misuse immediately.
Some of the links in this post are affiliate links. As an Amazon Associate, we earn from qualifying purchases. This means if you click on the link and purchase the item, we may receive an affiliate commission, at no extra cost to you. This helps us keep this website alive. Learn more here.
Amazon Disclosure
massagegunadvice.com is a participant in the Amazon Services LLC Associates Program, an affiliate advertising program designed to provide a means for sites to earn advertising fees by advertising and linking to Amazon.com. As an Amazon Associate, we earn from qualifying purchases. Amazon and the Amazon logo are trademarks of Amazon.com, Inc. or its affiliates. Please refer to our Privacy & Affiliate Policy for details.