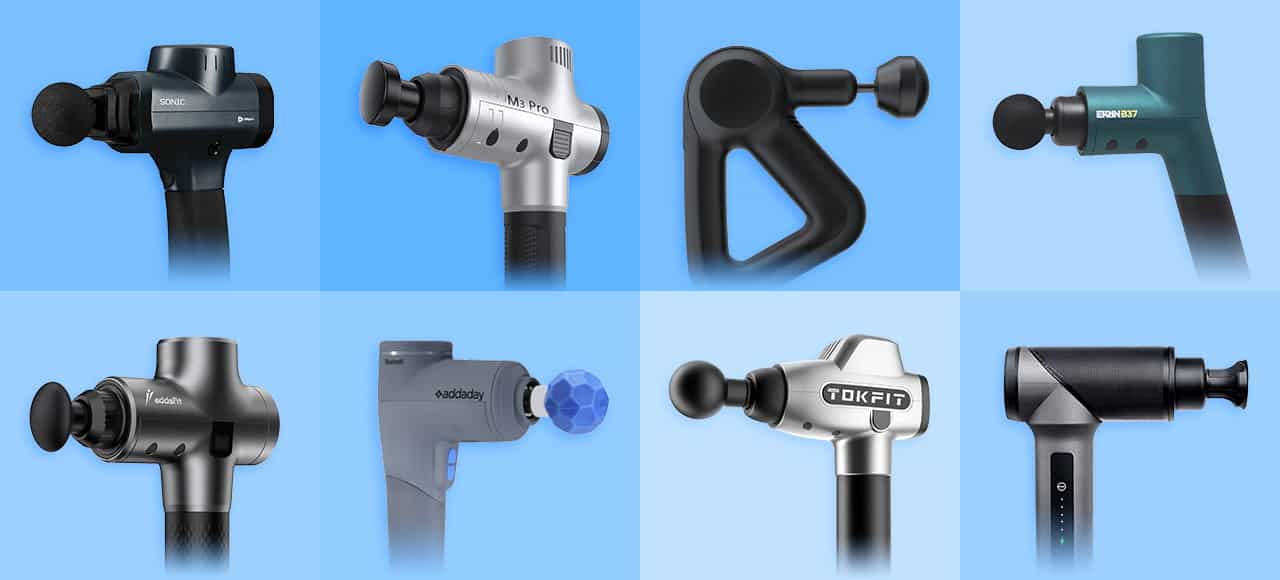 Best Affordable Massage Guns
Disclaimer: Our content is unbiased, non-sponsored and fact-checked. If you buy via links on our site, we may earn a commission. As an Amazon Associate, we earn from qualifying purchases.
---
By Good Luck, massage guns are no longer considered fancy gadgets, instead of efficient recovery tools with numerous benefits. Researchers prove it, and people love it.
But a high price usually hinders the purchase of a good massage gun. Owing to their benefits, affordable massage guns are getting popular.
The sad part is? Many of these 'so called' affordable massage guns are made by a joint Chinese manufacturer and sold by different brands. Such delusions make finding an affordable massage gun extremely difficult.
After spending a lot of time testing and researching, we came up with these 8 best affordable massage guns. Besides being budget-friendly, all of them are brilliant in their percussive action and usability.
---
Our Results: Best Affordable Massage Guns
---
Finding the Best Affordable Massage Gun
We want to address two things before the actual reviews. The first one is that after analysis, we found that the average price for a massage gun is $235. Therefore, every device below it is purely affordable.
Secondly, if you are new, there are terms you need to understand, and will be used frequently. These terms include:
Basic Terms
Stall Force
The amount of force a motor can provide before it stops (measured in lbs).
Stroke Length
It is the change in length caused by the massage gun head's back and forth movement and measured in millimeters (mm).
PPM = Percussions per minute.
It is a gauge of the speed range.
A Percussion Massager and a Massage Gun are the same thing.
If these things are making sense, we can continue toward the reviews.
---
Our #1 Choice: LifePro Sonic
With price around $120 (and you can get another 10% OFF using code 'MGA10'), LifePro Sonic currently provides the best features for the money. Its Lifetime warranty and LifePro's best customer support make it our top choice for an affordable massage gun.
In its design, it closely resembles standard handheld massage guns. But its diversity in color and an LED Display along with the right button placement make it distinctive. The Grip is also very comfortable.
With a 70 lbs stall force, LifePro Sonic can percuss more strongly than most popular massage guns like Theragun PRO, Hypervolt Plus, and LifePro Pulse FX. It's 12mm stroke length is slightly average compared with an expensive massage gun, but it seems fair for the price.
In addition, with a diverse speed range of 1200-3000 percussions per minute and 5-speed options assist in providing powerful percussion. With five attachments, it is as customizable as any other top-level massage gun.
Other usability features like battery [3 hours], noise [60dB], and weight [2.5 lbs] are ideal for the price.
The carrying case is well-built and spacious. This carrying case, along with a removable battery, makes it a perfectly portable massage gun.
With so many brilliant features, LifePro sonic is perfect for a fast recovery and releasing muscle tension.
Besides being affordable, many hobbyists prefer it as a recreation device. For such people, the percussive action of LifePro Sonic is potent enough to cause pain. Therefore, if you choose only soft Deep Tissue Therapy, LifePro Sonic will not be the right choice.
Use Code 'MGA10' to Get 10% OFF at Checkout.
You can check our "LifePro Sonic Detailed Review" for comparison and a more in-depth guide.
---
Addaday BioZoom

Addaday is a diverse brand, creating many recovery devices, from massage guns to massage chairs. Due to Highly Therapeutic Features, their first Generation BioZoom reached the peaks of popularity.
They recently came up with the new Bluetooth BioZoom that will perform similar to other advanced devices like Theragun PRO and Bluetooth Hypervolt Plus.
In its design, the Addady BioZoom is minimalistic and compact. Its silverish grey appearance made it look unusually sturdy. The Grip is also super ergonomic.
Though having an excellent design, strong percussion ability is what makes Addaday BioZoom distinctive. With a 70 lbs stall force, and 16 mm stroke length, it provides one of the best and dedicated deep tissue percussion therapy.
The five-speed options are also suitable for a diverse percussion range of 1200-3000 per minute. In contrast, it's 5 attachments are not brilliant, especially in their appearance.
The battery lasts for around two hours and is removable as well. The other 2.3 lbs weight is quite useful for an affordable massage gun.
Noise, however, is the most exceptional of its usability features. Even with an exceptionally high stall force, it produces less than 60 dB sound.
Similar to brilliant usability features, Addady BioZoom is a travel-friendly and highly portable massage gun. It's a firm carrying case assists in this portability.
Addaday BioZoom, Like the LifePro Sonic, has two drawbacks. The first one is it's not a genuinely affordable massage gun. Although currently for 9, it will be soon on its original 250$ price. So, if you are looking for an under 200$ massage gun, you have a short time to avail of the deal.
Secondly, Addaday BioZoom is purely a deep tissue massage gun exclusive for professionals. We only recommend choosing it when you are comfortable with high stall force.
---
Ekrin B37 Massage Gun
Ekrin B37 is a complete pack of ideal percussion and great usability. Therefore, we consider the best affordable massage gun for beginners.
Unlike most other massage gun brands, Ekrin Athletics took only a few months to become popular, and the reason is excellent customer support and perfect devices.
Ekrin 37, in its design, belongs to a particular category of Handheld massage guns. This design has a 15-Degree angle for comfy Grip and great ergonomics. Jawku Muscle Blaster, NoCry Massage gun, and LifePro sonic X are other massage guns with similar designs.
In percussion, Ekrin B37 lies in between LifePro Sonic and Addiday BioZoom. A 56 lbs Stall Force and 14 mm stroke length make it widely usable. Similarly, five speed-options and 4-hour battery life make it an elite beginner level massage gun. Also, due to its versatility we consider it our #1 choice for Theragun alternative.
Besides that, 2.2 lbs weight and a 62 dB sound are not that bad, if not excellent, for the price. Attachments, however, are only 4 in numbers. Fewer attachments than other massage guns make it slightly less customizable percussion massager.
Due to Ekrin Athletics' brilliant support system, this B37 massage gun comes with a Lifetime warranty. Other things like portability and carrying case are evident with the warranty.
The few drawbacks we have seen in this Ekrin B37 are; less customization ability and lack of advanced features. But for the price, these drawbacks are negligible.
Exclusive for our Readers: Use Code 'MGA20' for 20% OFF on Ekrin B37.
If you want to compare Ekrin B37 with other popular massage guns, you can visit our Ekrin B37 Detailed Review.
---
Theragun Prime
We know that $299 device could not be called an affordable massage gun, but with features like App-control, Force meter, LED Display, and built-in programs make Theragun Prime is among the most advanced massage guns.
Due to these matchless features and a comparatively better price, we have added Theragun Prime to our affordable massage gun list. The Theragun mini could also be an excellent choice for $199.
Being a part of the 4th Generation Theragun Family, Theragun Prime has a classic Theragun Triangular framework. Such a triangular design allows a multi-directional grip and effortless ergonomics. Most users find this Triangular Design easier to use than standard design as in Hypervolt.
With a Stall Force of 30 lbs, the Theragun Prime percussive force is not as impressive as the three above-mentioned massage guns. But its 16 mm stroke length makes it an accurate deep tissue device. So, in percussion Theragun Prime provides soothing therapy with an average force.
The usability of Theragun Prime is also impressive. A 2.2 lbs weight is suitable for any massage gun. Similarly, Less than 60 dB noise and 2 hours of battery life are like other massage guns. But custom speed-options make Theragun Prime remarkable.
Theragun Prime comes with a one year warranty, but Therabody's brand reputation is good enough to stick the device a lot longer.
Among Theragun Prime's few drawbacks, the lack of a compact carrying case is leading them all. Secondly, it might be slightly overpriced for people who don't love advanced features. Without these, Theragun Prime is among the few "value for money" massage guns, and definitely the best value Theragun out there.
More to read: Theragun Vs. Hyperice comparison.
---
Voxpree M30
Voxpree M30 massage gun is a combination of good percussion power and absolute durability. In addition, it is lightweight and attractive. These few reasons make it compatible to be called an affordable massage gun.
The design is pretty simple and is much like many of the other affordable massage guns. The Grip is good, but the power button's placement on the side makes it slightly tricky to operate.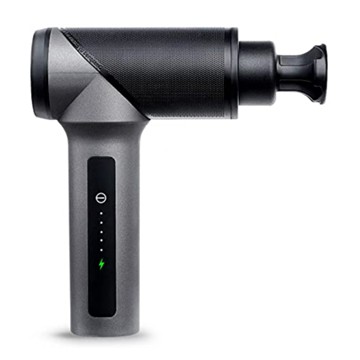 Though you might see Massage guns from Sportsneer and Medcursor to have a similar design, Voxpree M30 beats them all in percussion. With a combination of ~50 lbs stall force and 12 mm stroke length, the percussion feels pretty solid.
Like other affordable massage guns, Voxpree M30 has five-speed options with a 1200-3000 percussion range per minute. But its 6 'well-built' attachment heads make it comparatively more customizable.
On top speed, Voxpree M30 produces a sound of around 65 dB, which is reasonably tolerable. Additionally, 5-6 hours battery life makes Voxpree M30 one of the most long-lasting massage guns.
As Hinted in the start, the Voxpree M30 only weighs 1.7 lbs, making it one of the lightweight percussion massagers. Even more surprisingly, a combination of Powerful Percussion and being lightweight, as in Voxpree M30, is rare in other devices.
As a developing brand, Voxpree offers good customer support but only a one-year warranty.
Owing to many unique features, it is rare to have any significant drawback in Voxpree M30. Thus, if you are looking for an aesthetic affordable percussion massage, Voxpree is an excellent choice.
Pro Tip: Voxpree also offers the M30 in a version dedicated to women. Be sure to check what makes this beauty special!
---
TokFit T2
With its unique design, excellent battery life, and many speed options, TokFit T2 is well deserved to be called an affordable and perfect percussion device.
Despite having a standard handheld design, TokFit T2 doesn't resemble any of the massage guns due to unique construction. Similarly, it is easy to operate and offers one of the best Grip among all massage guns.
Unlike the brilliant design, the percussion is not remarkably impressive. With a 50 lbs stall force, and 11 mm stroke length TokFit T2 doesn't offer a real deep tissue therapy. But this 'ordinary' percussion is easily compensated by 20-speed options.
TokFit T2 has a unique stance in its attachments. It has two variants, one with six and other with four attachments [with a difference of 20$]. Standard 4 attachments work fine, but if you prefer six attachments, you will have additional customization.
The 2.2 lbs weight is what most of the other massage guns have. Surprisingly, despite 20-speed options, its noise never crosses 60 dB.
In addition, the battery is not only removable but lasts around 5 hours [2400 mAH]. A compact carrying case, along with these brilliant usability features make TokFit T2 one of the truly portable percussion massagers.
Lastly, as brand TokFit makes a lot of progress and offers quick responses to any customer queries. But we are not happy with one year warranty of this TokFit T2.
So, if you need a customizable and affordable massage gun at the same time comfortable with the percussion values, there is no better choice than TokFit T2.
Exclusive for our Readers: Use Code 'MGA40' for $40 OFF on TokFit T2.
---
AddsFit Max
addsFit Max is the newest massage gun on our list. Within a few months of its release, it became one of the top-selling affordable massage guns. Many of its features are similar to TokFit T2, but it is the right massage gun for hobbyists.
In this Design, addsFit Max resembles those hundreds of other massages guns that copied Hypervolt's design. But unlike those inexpensive replicas, addsFit Max has a solid construction along with charisma.
As we call it an affordable massage gun for hobbyists, it's because addsfit Max's percussion is not too powerful. The 35 lbs stall force and 12 mm stroke length is ideal for energizing the muscles but not very impressive to be called professional.
In contrast, the nine speed-options and 1800-3300 percussion per minute speed range are sensational. Moreover, five adjustable yet unique attachments again made it slightly customizable.
In its usability, addsFit has some useful features. Switching between its nine speeds, the noise fluctuates between 55-65 dB. The weight is 2.2 lbs, which is pretty ordinary. But the 2500 mAh removable battery [6 hours battery life] makes it an excellent affordable percussion massager.
As a brand, addsFit is comparatively new, and therefore we were conscious in recommending it. But with our brilliant experience with their customer team, we consider addsFit a trustworthy Massage Gun Brand.
But despite good construction and brilliant usability, addsFit Max is not a professional level massage gun. Therefore, keep this thing in mind before purchasing it.
Special deal for our Readers: Use Code 'MGA20' for 20% OFF on addsFit Max.
---
Opove M3Pro
On all massage gun recommendations, Opove M3Pro somehow manages to get its name on the list. Such a broad recommendation is due to more than its 6,500 5-star Amazon reviews. But our reason to consider it an affordable massage gun is due to its stellar construction.
Being Famous for "Hypervolt Replica," Opove M3Pro offers a similar design as $350 Hypervolt. In addition, construction and Grip are identical to many expensive handheld percussion massagers.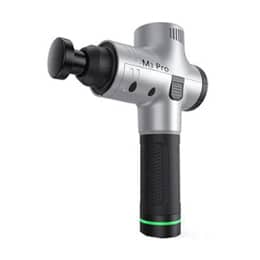 With a 30 lbs stall force and 12 mm stroke length, Opove M3Pro is suitable for post-workout recovery. But same as AddsFit Max, this percussion is not strong enough to get professional benefits.
Although Opove M3Pro has an 1800-3200 PPM speed range, three speed-options are relatively average. In contrast, five solid attachment heads provide some degree of modification in percussion.
A 3 Hours battery life, less than 60 dB noise, and 2.5 lbs weight are also not bad for the price. In addition, a removable battery and portable carrying case are some of the significant aspects of Opove M3 PRO.
You might have noticed that unlike many other affordable massage guns, Opove M3Pro doesn't have many unique features. But customer service of Opove is best among all massage gun brands on the list. Handling a good number of orders every day and solving all queries within 48 hours is not possible for every brand.
This dedication somehow compensates for the average features of Opove M3Pro.
So, if you need primary therapy and the best customer experience, Opove M3Pro will be an excellent choice.
---
Things to Consider While Choosing an Inexpensive Massage Gun
This is not an extensive list of things, rather only a few points that you should keep in mind when looking for an affordable massage gun. More dedicated people can look at our Step by Step Guide on choosing a massage gun here.
Determine the level of percussion suitable for you. Don't just go with the higher values; Too much stall force and stroke length are not tolerable by everybody.
Speed options and attachments are very crucial, as they can totally alter the massaging experience.
Prefer those massage guns with at least one distinctive feature [Unusual Speed Option, Control via the app, lightweight, and long battery life are some examples].
Never purchase those fancy looking massage guns advertised everywhere on social media.
Massage guns are not an absolute requirement. They assist in post-work recovery, along with providing some additional benefits. You can read more at "Are massage guns worth it?"
---
Final Verdict – The Best Affordable Massage Gun
In this affordable massage guns list, we avoid adding any under $100 device. It is because many of them come with additional issues. Those who want to specify their budget can look at our under $200 and under $100 massage guns.
Finally, our Best Choice goes to Lifepro Sonic for it's great value for money. And by entering the 'MAG' code during checkout, you will get an additional 10% OFF. It's a great deal!
In the end, we hope that our dedicated effort helps you select the best affordable massage guns. For personalized questions and queries, you can contact us.
Disclaimers
The views and opinions expressed on this website are those of the authors. Any content provided by our bloggers or authors are of their opinion and are not intended to malign any religion, ethnic group, club, organization, company, individual or anyone or anything.
All product names, logos, and brands are property of their respective owners. All company, product and service names used in this website are for identification purposes only. Use of these names, logos, and brands does not imply endorsement.
It is our policy to make every effort to respect the copyrights of outside parties. If you believe that your copyright has been misused, please provide us with a message stating your position and we will endeavor to correct any misuse immediately.
Some of the links in this post are affiliate links. As an Amazon Associate, we earn from qualifying purchases. This means if you click on the link and purchase the item, we may receive an affiliate commission, at no extra cost to you. This helps us keep this website alive. Learn more here.
Amazon Disclosure
massagegunadvice.com is a participant in the Amazon Services LLC Associates Program, an affiliate advertising program designed to provide a means for sites to earn advertising fees by advertising and linking to Amazon.com. As an Amazon Associate, we earn from qualifying purchases. Amazon and the Amazon logo are trademarks of Amazon.com, Inc. or its affiliates. Please refer to our Privacy & Affiliate Policy for details.