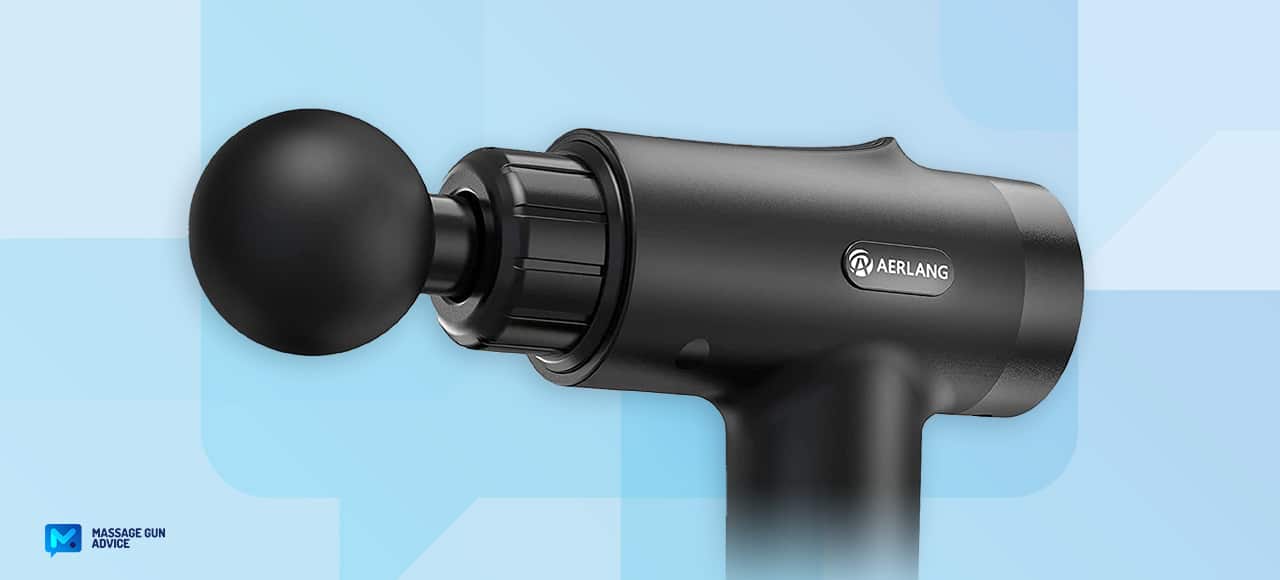 Aerlang Massage Gun Review – Is This Super Cheap Massager Worth It?
Disclaimer: Our content is unbiased, non-sponsored and fact-checked. If you buy via links on our site, we may earn a commission. As an Amazon Associate, we earn from qualifying purchases.
---
Welcome to this Aerlang massage gun review. Aerlang is a fitness brand that sells on Amazon. For now, it seems massage guns are their biggest business even though they sell other fitness equipment like sit-up bars and workout benches.
What caught our attention was the number of positive reviews this device has received from customers. Well, that and the fact that it's unbelievably low priced. We'll go ahead and do an Aerlang review to see if it's a worthy consideration over other budget-friendly devices that we have seen and even reviewed.
Come along with us!
---
---
Aerlang Massage Gun Review
Aerlang EM8 Specifications

Feature
Aerlang EM8 Percussion Massager
Stall Force
20-30 lbs. (est)
Stroke Length
16 mm (but feels less)
Percussions
1200 -3200 ppm
Speed options
20
Battery Life
3-6 hours
(2500 mAh, non-removable)
Noise
35 – 55 dB
Weight
2.2 lbs
Head Attachments
6
Warranty
1 year
Price
Check at Amazon
Aerlang EM8 Specifications
---
First Impressions
Unboxing
For a device priced this low, it's amazing that they chose to equip it as best as they could. It comes with a nice zippered carrying case.
The contents of the case include the device itself, the attachments, the wall charger, and a user manual.
---
Device itself
The device has a basic, universal design (T-shape). It's not something that will turn heads, at least not for us, since we have seen some great designs from other brands – Theragun Elite etc. However, we believe they designed it to be simple enough.
Talking of simplicity, it has simple air vents at the top to cool it down when used for long. The main switch button is at the bottom (similar to Hypervolt) next to the charging port.
Not everything is simple though, the device has an LCD with touch buttons – how about that for a low-budget massage gun?
Understanding the display won't take you long, especially if you have interacted with a similar one before. Plus, most of it is marked clearly for anyone to understand.
There is the speed indicator, the numbers to the left of the screen (0 to 20), and the battery indicator, the numbers to the right of the screen(0 to 99). There are + and – signs to toggle between speeds.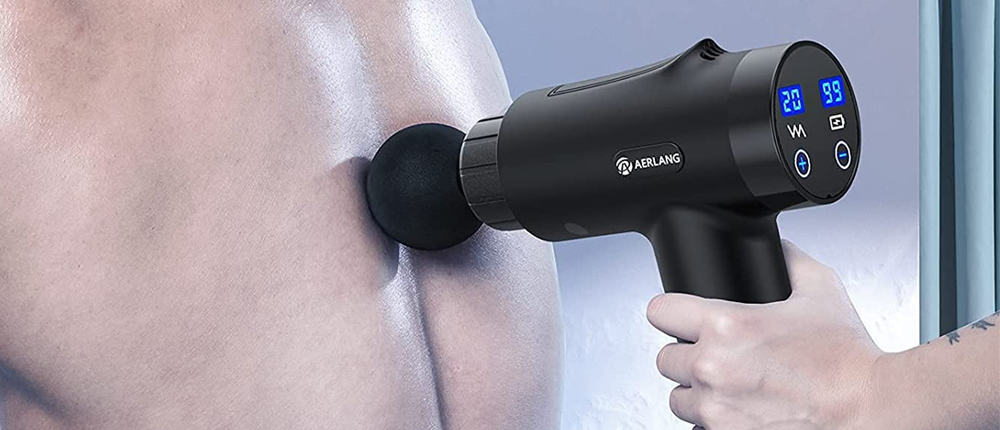 Another thing we noticed, is that it has an LED ring like the one we saw with Hypervolt. A similar concept of the ring (around the bottom of the handle) lighting up when the device is switched on. We have seen many massage gun brands copy Hypervolt, perhaps Aerlang went all in with this one.
That said, there are 3 color variations you can choose from; black, silver, or carbon fiber.
---
Attachments
The Aerlang device comes with 6 attachments. We have to give it to them, not many affordable massage guns are this equipped. Even Theragun is somewhat economical with the number of attachments for their entry-level Prime – it has 4 attachments.
The attachments here include:
Ball head: This one is used to massage most parts of the body including the joint areas. It has a give to it to massage tender and bony areas.
Flat head: It's the go-to massage attachment if you want to massage large muscle groups like the quads and hamstring.
Bullet head: This one is the pointy one. It's used to massage trigger points and for pinpoint massage treatment.
Fork / Spine head: Used to massage the area along the spine and the neck area. It can also be used to massage the Achilles area. You can also use it around the shoulder blades.
Shovel / Wedge head: A special attachment used to massage the shoulder blade. You can also use it to massage small muscle groups (arms and palms).
The attachments feel solid enough. They are made of hard plastic, unlike what we saw with Theragun attachments that were too soft when they should've been hard. There are 2 ball attachments included; one is smaller which they say can be used to massage the joints, and the large one that is used on large muscle groups. 6 attachments are enough to massage the whole body.
---
Size, Weight and Ergonomics
The Aerlang percussion massager is a full-sized gun but looks compact. It's not like the Urikar AT1 that we recently got a hold of and told you about. It's not as bulky as the latest Hypervolt Plus even though it has a similar configuration.
It weighs 2.2lbs – same as Ekrin B37 and actually the typical weight for most massage guns in this category.
For ergonomics, the fact that Aerlang chose the T-shape means you will have to endure wrist fatigue during long massages. We have always preferred a bit of innovation here. Ekrin gave us something new with their angled handle design.
However, for a budget massage gun like this, we guess it's a small price to pay. We also noticed that the handle may be a bit too large for guys with small hands.
---
Performance
We were interested to see how this device would perform given how much it actually costs. Let's find out, shall we?
---
Amplitude
Also known as stroke length, this is the distance traveled by the massage gun head during the percussions. It's an important aspect of any massage gun and determines what kind of massage therapy you are getting. A long enough amplitude means you can expect percussive therapy from a device. If it's too short, then the best you can expect is vibrational therapy.
The Aerlang massage gun has a 16mm amplitude. This came as a surprise to us but then we immediately had flashbacks of when we tested and reviewed Legiral Le3. Where the amplitude was long but the power was disappointing. Is it a case of Legiral Le3 déjà vu? Well, we'll see that in just a second.
For now, it's important to note that with a 16mm amplitude, as advertised by the manufacturer, this device can give a good massage since the hits are hard enough – you don't have to push it against the body initially. There's a one small issue though as the device doesn't really feel like 16mm. We had it only for a brief time, and we might buy one again soon to measure the amplitude precisely once again.
But amplitude is a one thing, and another important aspect is the stall force. For a deep-to-the-bone massage, you'll need enough stall force.
---
Stall Force
This is the amount of pressure it takes to stall the motor of a device. A strong motor can withstand a lot of pressure. Sometimes in order to dig deep into the muscle tissue a bit of pressing is needed. A device that easily stalls when pressure is applied will not be able to properly massage large muscle groups like the quads and hamstring.
Unfortunately, it's a case of Legiral Le3 déjà vu with this device. A high amplitude that is not complemented with equal or good enough stall force.
This device has a very low stall force – somewhere in the upper 20s or 30lbs. at most. The motor output (20W) gives it away. You shouldn't expect crazy power with this. We see this kind of thing with many Amazon brands that try to win customers by selling them a high amplitude but very low power.
Aerlang claims that their gun can withstand 35lbs. of pressure, but we don't believe that is entirely true. Having compared it to other guns, we don't believe it has that much power.
Even if we were to give them the benefit of the doubt, 35lbs. is still entry-level at best. Something similar to what Theragun Prime and Hypervolt Bluetooth have. What that means is that when pushed against the skin, this gun will easily stall.
However, we still believe this gun is good enough for most people, especially those who don't want an aggressive massage. If you just want to treat your shoulder muscles or hands and feet, this massage gun will do just fine.
However, bodybuilders and demanding athletes will have to get something much stronger. Note that the stall force is progressive – it's strong at top speed and very weak at low speed.
---
Percussions
This device has a 1200-3200 percussion range. Very impressive, not just because it can rev as high as Hypervolt or Ekrin B37, but also because it can start very slow. This allows for a relaxing or soothing massage.
It has 20 speed gears to cycle through. Now that may sound impressive if you have never handled a massage gun, but for anyone who has had one, 20 speeds are way too many. Even though the range is wide, we believe 6 or 7 speed gears are enough – or maybe 8 at most.
Some vibrations are transferred to the handle. Again, a small price to pay for how cheap this gun is.
---
Battery
The battery has a 2500mAh capacity. This is the standard capacity for most massage guns that we have interacted with.
The advertised time on battery with a single charge is 3 to 6 hours. We believe this is realistic enough.
However, expect less time on battery when you have to use more pressure during a massage and constant high speed.
The charger is a wall charger. We expect this with most full-sized massage guns.
---
Warranty
This device has a 1-year warranty. Obviously as low as it can be, but we shouldn't really expect a lot from such a low-priced percussion massager. We are actually grateful there is warranty information.
Most brands that sell similar massagers don't include it. If you want a lifetime warranty, check out Ekrin and Lifepro devices. They will also offer you great customer service but you'll pay more.
---
Price and Where to buy
Under $40 is crazy low if we're being honest. That is a tiny fraction of what a premium device would cost. This is a budget device that is really well equipped and can be a reasonable choice as an introductory gun.
You could also buy it as a gift to your loved ones that haven't yet tried a massage gun. This device is available on Amazon.
---
Aerlang Massage Gun Review Conclusion
Before we close the curtains on our Aerlang massage gun review, we have to mention that this is a very affordable device.
Don't expect top quality if you decide to buy it. It's not very attractive and has very low power. It may be an option for those who want a starter massage gun but have a limited budget, but it's too weak for bodybuilders and serious athletes.
There remains a huge question mark on its longevity but you can buy 2 and it would still be cheaper than some of the best guns under $100 that we've covered.
---
Aerlang Massage Gun Rating
Quality

Effectiveness

Usability

Accessories

Price Value
Summary
The Aerlang muscle massage gun is a pocket-friendly device that doesn't turn heads but has enough for a novice massage gun user to enjoy. It has a high amplitude to massage tender and small muscle groups. However, it lacks the power to offer a deep tissue massage. It's very well equipped for its cost as well.
Disclaimers
The views and opinions expressed on this website are those of the authors. Any content provided by our bloggers or authors are of their opinion and are not intended to malign any religion, ethnic group, club, organization, company, individual or anyone or anything.
All product names, logos, and brands are property of their respective owners. All company, product and service names used in this website are for identification purposes only. Use of these names, logos, and brands does not imply endorsement.
It is our policy to make every effort to respect the copyrights of outside parties. If you believe that your copyright has been misused, please provide us with a message stating your position and we will endeavor to correct any misuse immediately.
Some of the links in this post are affiliate links. As an Amazon Associate, we earn from qualifying purchases. This means if you click on the link and purchase the item, we may receive an affiliate commission, at no extra cost to you. This helps us keep this website alive. Learn more here.
Amazon Disclosure
massagegunadvice.com is a participant in the Amazon Services LLC Associates Program, an affiliate advertising program designed to provide a means for sites to earn advertising fees by advertising and linking to Amazon.com. As an Amazon Associate, we earn from qualifying purchases. Amazon and the Amazon logo are trademarks of Amazon.com, Inc. or its affiliates. Please refer to our Privacy & Affiliate Policy for details.